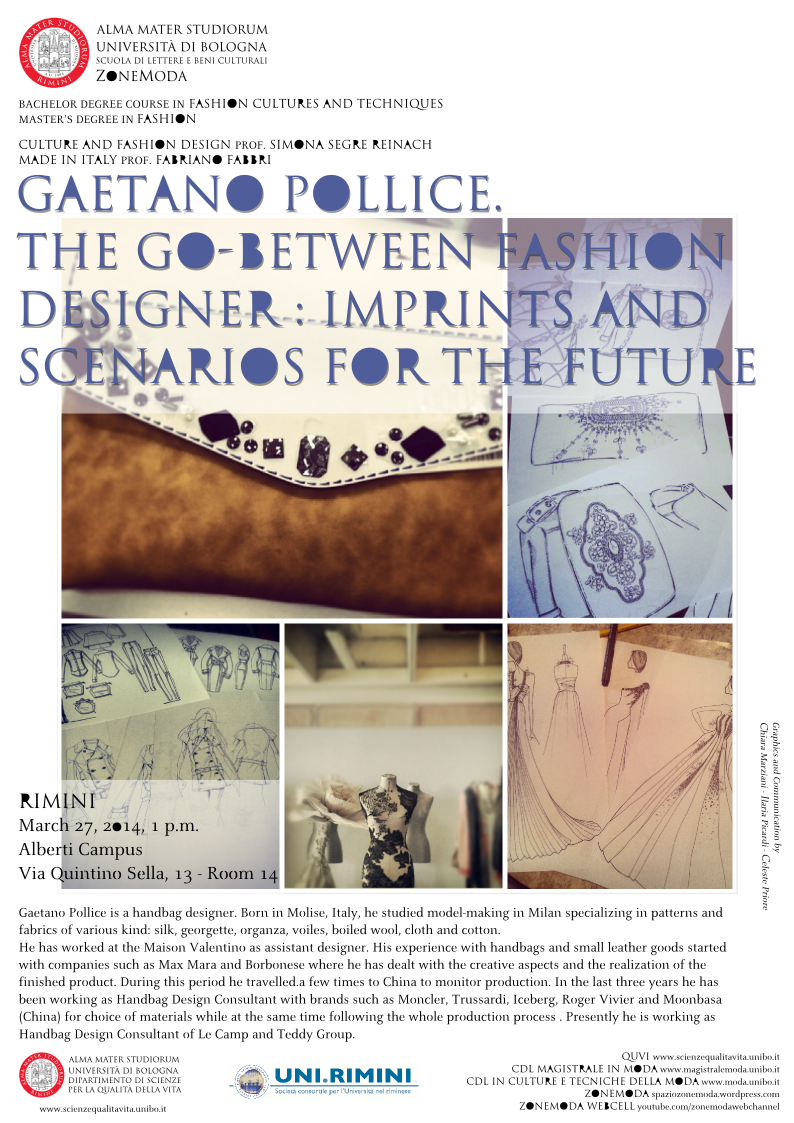 Gaetano Pollice. Il fashion designer come go-between
Foto di Virginia Angius
RIMINI
27 marzo 2014, ore 13.00
Sede universitaria Alberti
via Q.Sella, 13 – aula 14
Docente: Simona Segre Reinach
Gaetano Pollice. Il fashion designer come go-between: impronte e scenari per il futuro
Lezione speciale con Gaetano Pollice
Gaetano Pollice è un designer specializzato nella creazione di borse. Nato in Molise, ha studiato modellistica a Milano, dove ha approfondito il lavoro con diversi materiali, tra cui seta, organza, voile, lana, cotone.
E' stato assistente stilista per la Maison Valentino. La realizzazione di borse e piccola pelletteria è cominciata con la consulenza creativa per Max Mara e Borbonese, dove si è occupato degli aspetti creativi e della realizzazione dei prodotti, incluse alcune esperienze in Cina. Negli ultimi anni è consulente per il design, la scelta dei materiali e l'intero processo produttivo di Moncler, Trussardi, Iceberg, Roger Vivier e Moonbasa (Cina). Oggi è consulente designer per le borse di Le Camp e Teddy Group.
________
GAETANO POLLICE
In occasione dell'incontro di Venerdì 27 Marzo, organizzato dai corsi di laurea di moda dell'Università di Bologna, Campus di Rimini, Gaetano Pollice è stato portavoce di una lezione esplicativa ruotante attorno la figura del designer odierno. Raccontando la propria esperienza professionale, ha innanzitutto affermato quanto il concetto di creatività sia profondamente mutato rispetto al passato: a differenza dell'ormai lontano couturier, il lavoro del fashion designer non può oggi dare pieno sfogo alla propria creatività, in quanto fortemente condizionato dal momento in cui viviamo e dalla forte competitività che vive e regna sovrana nel mondo della moda. Gaetano ha definito il designer come persona dinamica e cosmopolita, un viaggiatore curioso alla continua ricerca di nuove tendenze, che possono provenire dalle più disparte fonti. In più, deve possedere un buon rapporto con la tecnologia, essere openmind e imprescindibilmente dotato di talento.
Leggi l'articolo completo: Gaetano Pollice – a cura di Giorgia Turco – studente del corso triennale Culture e Tecniche della Moda
_____________
RIMINI
March 27, 2014, 1 p.m.
Alberti Campus
Via Quintino Sella, 13 – Room 14
Gaetano Pollice. The go-between fashion designer: imprints and scenarios for the future
Special lecture with Gaetano Pollice
Gaetano Pollice is a handbag designer. Born in Molise, Italy, he studied model-making in Milan specializing in patterns and fabrics of various kind: silk, georgette, organza, voiles, boiled wool, cloth and cotton.
He has worked at the Maison Valentino as assistant designer. His experience with handbags and small leather goods started with companies such as Max Mara and Borbonese where he has dealt with the creative aspects and the realization of the finished product. During this period he travelled.a few times to China to monitor production. In the last three years he has been working as Handbag Design Consultant with brands such as Moncler, Trussardi, Iceberg, Roger Vivier and Moonbasa (China) for choice of materials while at the same time following the whole production process. Presently he is working as Handbag Design Consultant of Le Camp and Teddy Group.
________
GAETANO POLLICE
On March 27th, during the academic meeting, Gaetano Pollice told his personal experience and explained to the students of the fashion course of the University of Bologna, Rimini Campus, the new role of designer. He affirmed that creativity is profoundly changed from the past: today we can't consider the fashion designer like the old couturier, because his work isn't the full expression of his creativity, which is strongly influenced by the current crisis and the strong competition that reigns supreme on the fashion world.
Read the full article: Gaetano Pollice – by Giorgia Turco – Bachelor Degree Course in Fashion Cultures and Techniques student