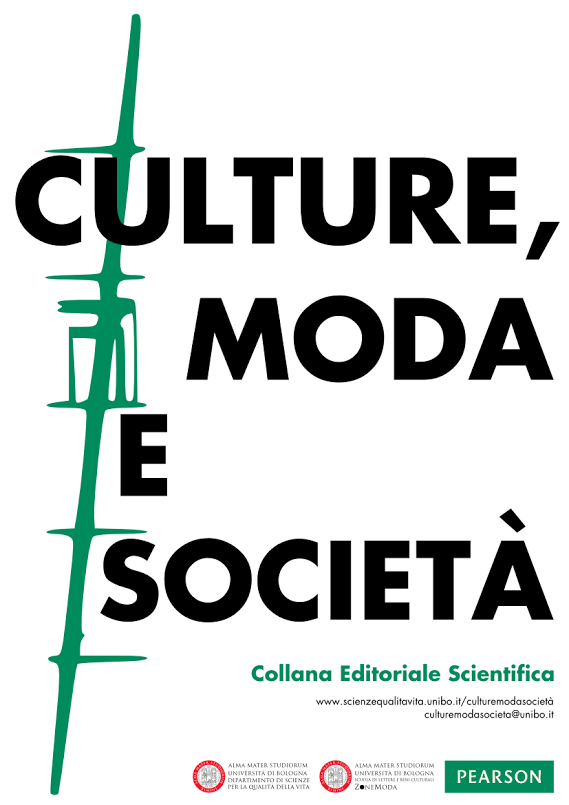 Culture, Moda e Società – Cultures, Fashion and Society

Prossima scadenza: 31 Marzo 2014
Nel panorama scientifico degli Studi Culturali è presente oggi una nuova collana editoriale dal titolo "Culture, moda e società", grazie a una convezione tra il Dipartimento di Scienze per la qualità della vita dell'Università di Bologna e l' editore Pearson Bruno Mondadori.
Il progetto è nato dal gruppo di ZoneModa, etichetta che riunisce i docenti e i collaboratori dei corsi di laurea sulla Cultura della Moda che da diversi anni sono attivi nel Campus di Rimini e che sono già promotori della rivista ZoneModa Journal.
La Collana sarà valutata con sistema di referaggio double blind (Il sistema di valutazione dei testi è la revisione anonima da parte di almeno due referees scelti in base alla specifica competenza) e prevede la pubblicazione di due monografie per anno a partire dal 2014.
La collana editoriale dal titolo "Culture, moda e società" si propone di diventare punto di riferimento per le riflessioni scientifiche e le ricerche italiane che si orientano verso il panorama degli studi culturali, con particolare attenzione ai fenomeni legati al sistema della moda visto come oggetto che permette diversi approcci e coinvolge molteplici saperi, invadendo territori d'interesse ampi e diversificati. La collana vuole dare fisionomia e profilo identitario a un campo di analisi complesso e interdisciplinare già presente sul territorio nazionale, ma anche dare spazio alle migliori pubblicazioni internazionali di cui offrire in italiano la prima traduzione e curatela.
La nuova collana editoriale si rivolge non solo a chi si occupa di moda con atteggiamento specialistico, ma anche a chi ha interesse per nuove forme di riflessione che usano lo studio della moda e dei fenomeni sociali di massa come strumento di analisi della contemporaneità, sfruttando linguaggi e saperi intrecciati che vanno dall'arte contemporanea alla storia sociale, dal cinema alla fotografia, dalla cultura visuale al design, dalla grafica alla pubblicità, dai social media alla letteratura, dall'estetica alle indagini sui consumi e le tendenze, fino alle riflessioni sulle dinamiche delle creatività e alle caratteristiche dello shopping tourism.
Un ampio spettro di studi umanistici e socio-economici che permette di guardare da punti di vista interdipendenti la società contemporanea, i suoi fenomeni, le sue tendenze, le sue prospettive.
Prossima scadenza: 31 Marzo 2014
Cultures, Fashion and Society – English version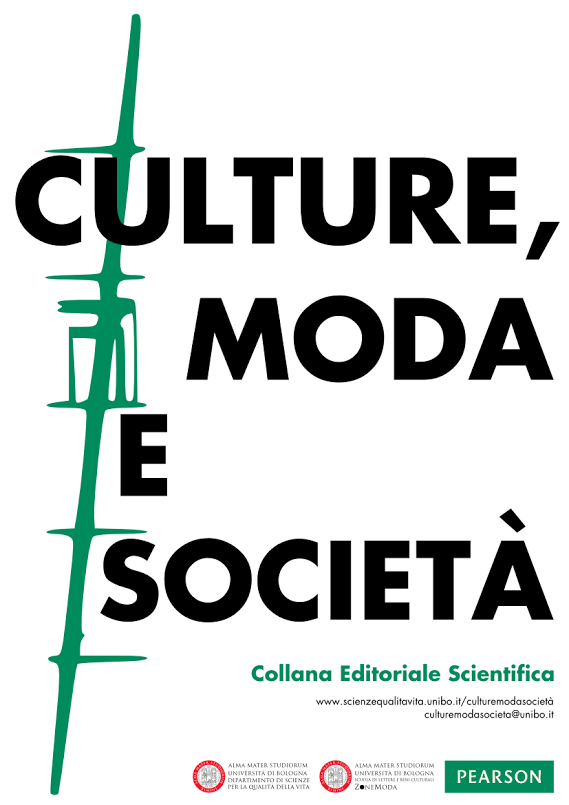 Next deadline: March 31st, 2014
A new series of books named "Culture, moda e società" ("Cultures, Fashion and Society"), is now available thanks to an agreement between the University of Bologna/Dipartimento di Scienze per la qualità della vita and Publisher Pearson Bruno Mondadori.
This  project carrying the "ZoneModa team" tag has been developed by professors and collaborators who have been working for several years on the Fashion Culture Degree Courses which are held at the Rimini Campus.
The book series, scheduled for publication of two monographs per year starting from 2014, will be evaluated with double blind peer-review system (the essays to be published will be reviewed anonymously by at least two referees selected  according to their specific expertise).
The scientific book series entitled "Cultures, Fashion and Society " will devote particular attention to the phenomena connected with the fashion system and proposes to become the benchmark for scientific reflections and Italian research focused on the scene of  cultural studies. Such system is seen as a device that allows different approaches, involves multiple knowledge and crosses large and diversified fields of interest.The collection aims at giving shape and identity to a complex, varied and inter-disciplinary field of analysis that is already present on the national territory as well as giving space to this first Italian edition of international publications.
The new book series is not only addressed to fashion scholars but also to people who are interested in new forms of reflection involving the study of fashion and its social mass phenomena. It will be a tool of analysis of modernity using languages and intertwined knowledge ranging from contemporary art to social history, from cinema to photography, from visual culture to design, from graphic design to advertising, from social media to literature, from aesthetics to research on costume and trends, as well as reflections on the dynamics of creativity and features of shopping tourism.
It includes a wide range of liberal arts and socio-economic studies that allow us to watch contemporary society, its phenomena, trends, perspectives from an interdependent point of view.
Next deadline: March 31st, 2014