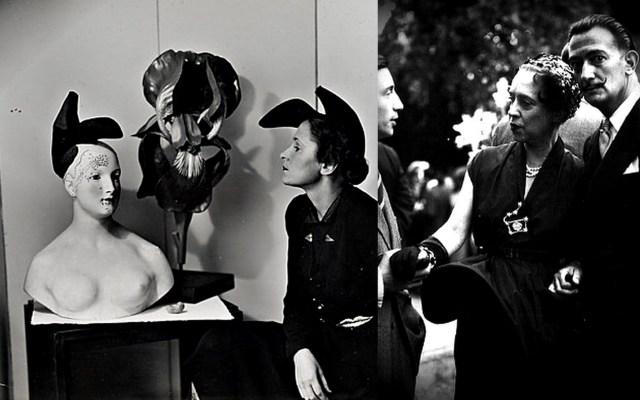 Elsa Schiaparelli: circhi e carnevali in un'unica visione
di Cecilia Cestari – Redazione Writing For Fashion
Quando si parla di Elsa Schiaparelli, occorre prima compiere un'operazione apparentemente non-sense, un rito gestuale necessario non solo per evitare di scadere nel già detto, ma per potersi identificare – laddove sia possibile – in lei: infilatevi una manciata di semi nella bocca e nel naso, aspettando che i fiori germoglino sulle vostre guance. Poi appiccicatevi delle ciglia finte, lunghe e fitte milioni di piume, e indossate una scarpa come fosse un cappello, perché Elsa Schiaparelli è così ed è così che va ritratta, un genio bislacco dall'inimitabile follia.
I recenti tentativi di rispolvero della sua memoria valgono come riconoscimento, come elogio pomposo, nei confronti di un tesoro che per nulla al mondo deve essere dimenticato: impossibile da riprodurre, molto più facile da imitare. Probabilmente solo una pronunziazione da parte di Miuccia Prada – la quale ha avuto la fortuna di scambiarci due chiacchiere in privato, appena sei stagioni fa – potrebbe mettere fine alla diatriba di oggi: Schiaparelli sì, Schiaparelli no. Pertanto, che debba o non debba essere lasciata in pace, l'unica cosa di cui possiamo andare certi è che Schiap è stata capace di fondere circhi e carnevali in un'assoluta e personale visione di moda, decontestualizzando l'oggetto, invertendo ordini e funzioni.
Elsa Schiaparelli era carnevalesca nella sua sensibilità, fatta di poesia surrealista ed ovvietà capovolte, dove a lanciare i coriandoli provvedeva spesso l'amico Dalì. Elsa Schiaparelli era circense, in tutto e per tutto, a partire dalle sue ironiche e mirabolanti  creazioni; al 1938 risale, difatti, la collezione Cirque, fonte d'ispirazione per una grata quantità di epigoni e che la stessa artista ha raccontato nella sua autobiografia: "Clown, elefanti, cavalli, decoravano i tessuti su cui era stampata la scritta Attention à la peinture. Palloncini come borse, ghette come guanti, coni gelato come cappelli, cani addestrati, scimmie dispettose." Potremmo proseguire all'infinito: aragoste sulle gonne (Lobster dress, 1937), insetti tra le dita, ornamenti trompe-l'œil, poi ancora abiti-scheletro (Skeleton Dress, 1938), borse-telefono, giacche di specchi (Rococò Mirror Jacket, 1936): un compendio d'illusione volto a destabilizzare, a creare cortocircuiti visivi e concettuali, suggerendo ogni volta un altrove alterato.
Con Cirque la stilista inaugurava il processo di sviluppo creativo di una collezione attorno a un unico e singolo tema, trasformava le sfilate in sontuosi spettacoli e anticipava così due tendenze che sarebbero, da lì a poco, diventate l'iter del settore. Non c'era quasi mai il tempo di chiedersi chi lo avrebbe indossato, si rimaneva sorpresi e questo bastava, tanto che anche la cliente più tradizionalista finiva col recarsi nel suo atelier. Alla faccia dell'eterna rivale Coco Chanel – emblema della semplicità democratizzante – troppo orgogliosa per ammettere a se stessa che l'"artista che fa vestiti" fosse, in tutt'altro modo, straordinariamente brava.
Source: Gnoli S. (2012), Moda. Dalla Nascita della Haute Couture a oggi, Carocci Editore, Roma, p. 76; Schiaparelli E. (2008), Shocking Life. Autobiografia di un'artista della moda. Alet, Padova, p. 126. | Ph. www.paperblog.com.
__________________________________
Elsa Schiaparelli: Circus and Carnival in an unique vision
Before talking about Elsa Schiaparelli, you need to perform an apparently absurd ritual, but necessary to escape from the usual banality. This will serve also to better identify yourself – if it is really possible – with her: introduce a handful of seeds in your mouth and nose, wait for some flowers to bud on your cheeks. Put on long and fake eyelashes, then wear a black shoe as a hat: that is the only way to describe Elsa Schiaparelli, a bizarre and inimitable genius.
Latest attempts to refresh her memory are appreciable as recognition, as opulent praise towards a treasure that should never be forgotten: something that is impossible to reproduce, but much easier to imitate. Probably only a sentence of Miuccia Prada – who had a little talk with Elsa, just six seasons ago – would put an end to this current diatribe: Schiaparelli yes, Schiaparelli no. The answer doesn't exist, or better, it is not really important; the most important thing is that Schiap was able to mingle circus and carnivals in an absolute and personal vision of fashion, decontextualizing the object, inverting orders and functions.
Elsa Schiaparelli was a Carnival in her own sensibility, made of surrealist poems and overturned concepts, where often her friend Dalì threw streamers and confetti. Elsa Schiapparelli was a Circus every inch, starting from her ironic and amazing creations; indeed in 1938 she produced the Cirque collection. An inspiration for many subsequent designers of which she told us about in her autobiography: "Clowns, elephants, horses decorated the fabrics on which was printed the sign Attention à la peinture. Balloons like bags, gaiters like gloves, ice-cream cones like hats, trained dogs, naughty monkeys". And we could go on and on: lobsters on the skirts, insects between the fingers, trompe-l''œil ornaments, skeleton-dresses, telephone-bags, mirror jackets; a compendium of illusion that destabilizes, creates conceptual and visual disorientation, suggesting altered situations every time.
With her Cirque work the designer inaugurated the creative process of a collection development around a unique and single topic. She transformed the catwalks into wonderful shows bringing forward two important trends that would become a usual practice of the fashion system.  There was no time to wonder if someone would wear those creations, but you, as the most traditionalist clients, were so surprised that imperatively ended up in her atelier. What would Coco Chanel think? The eternal rival of Schiap – emblem of the democratizing simplicity – she was too proud to admit to herself that "is the artist that makes clothes" was, in a different way, extraordinarily good.