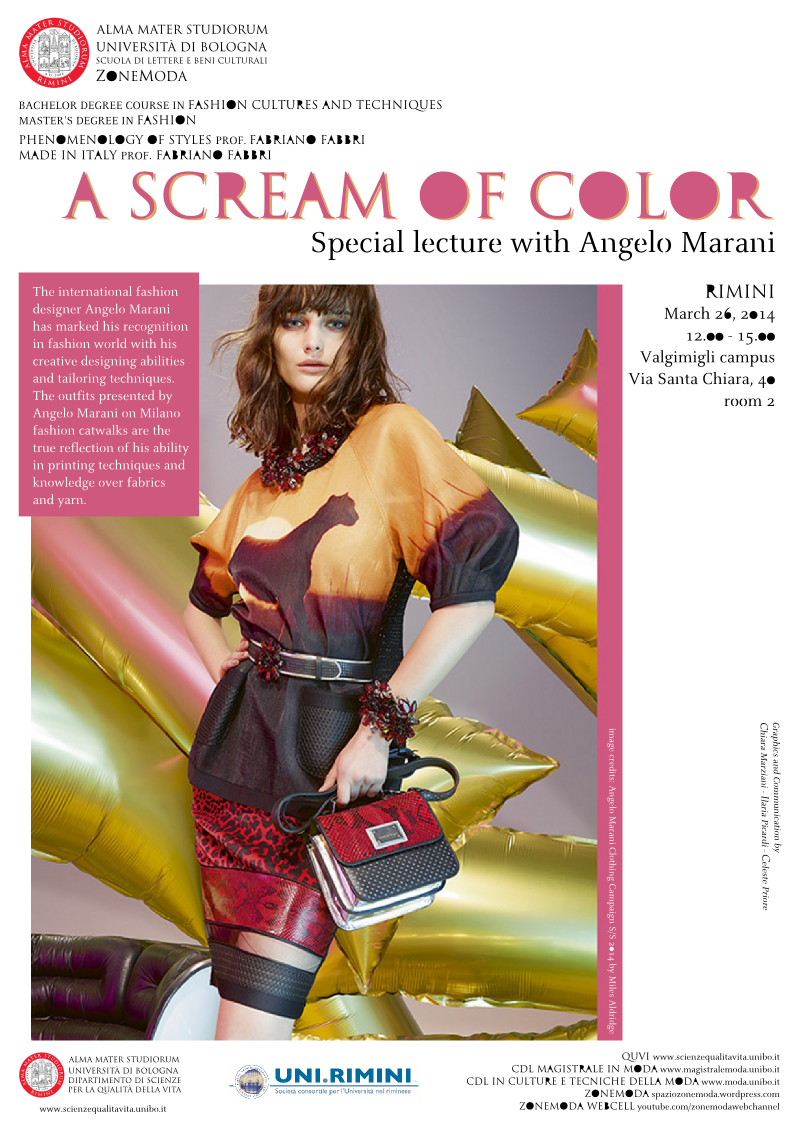 Un grido di colore – Lezione Speciale con Angelo Marani
Foto di Virginia Angius
RIMINI
26 marzo 2014, ore 12.00
Sede universitaria Valgimigli
via S.Chiara, 40 – aula 2
Docente: Fabriano Fabbri
Un grido di colore
Il fashion designer di fama internazionale Angelo Marani ha segnato il suo riconoscimento nel mondo della moda con le sue capacità di progettazione creative e tecniche sartoriali. Gli abiti presentati da Angelo Marani sulle passerelle milanesi sono il vero riflesso delle sue abilità nelle tecniche di stampa e della conoscenza di tessuti e filati.
ANGELO MARANI
"Un grido di colore", questo il titolo con cui il fashion designer di fama internazionale Angelo Marani si presenta all'incontro tenutosi lo scorso 26 marzo, in occasione del ciclo di conferenze Made In Italy, organizzate dal corso di laurea magistrale in Moda del Campus di Rimini.
Massimalista, amante dell'arte e del colore, lo stilista ha avuto l'onore e la responsabilità di inaugurare il calendario delle ultime sfilate milanesi, presentando la nuova collezione AI 14/15. Forte tenacia e autentica passione per l'artigianato italiano sono le parole chiave con cui possiamo identificare la carriera di Marani, il quale, fin dalle sue prime parole, incoraggia i giovani studenti a seguire la loro strada e a credere in loro stessi, ad apprendere un mestiere e a lavorare plasmando il patrimonio lasciato dalle precedenti generazioni: imparare l'arte senza metterla da parte, perché "ciò che l'uomo ha prodotto è qualcosa di meraviglioso". Emerge così, all'interno del sistema moda, la necessità di valorizzare quelle che sono le competenze della manifattura locale, quindi di partire dalla creatività con l'intento di produrre qualcosa capace di mostrarsi come nuovo.
Leggi l'articolo completo: Marani – a cura di Annalena Biotti, studentessa del Corso di laurea triennale in Culture e Tecniche della Moda
___________________________________
RIMINI
March 26, 2014, 12.00 – 15.00
Valgimigli campus
Via Santa Chiara, 40 – room 2
A scream of color
The international fashion designer Angelo Marani has marked his recognition in fashion world with his creative designing abilities and tailoring techniques. The outfits presented by Angelo Marani on Milano fashion catwalks are the true reflection of his ability in printing techniques and knowledge over fabrics and yarn.
ANGELO MARANI
"A scream of color": this is the title chosen for the academic meeting with the international fashion designer Angelo Marani. The event was held last 26 March, on the occasion of the cycle of special lectures Made In Italy, organized by the course of Fashion degree at Campus of Rimini.
Extremist, art and color lover, our guest had the honor and the responsibility to inaugurate the last fashion week in Milan, showing his AW 14/15 collection. Strong tenacity and authentic passion for the Italian craftsmanship are the key words to identify the career of Marani, who immediately encouraged the young students to follow his road, to believe in themselves, to learn a work and to shape the legacy left by the past generations, because "what the man has produced is something marvelous". So the fashion system – today more than yesterday – needs to valorize the competences of the local manufacture, focusing on the creativity to produce something new.
Read the full article: ENG_Marani – by Annalena Biotti, Bachelor Degree Course in Fashion Cultures and Techniques student