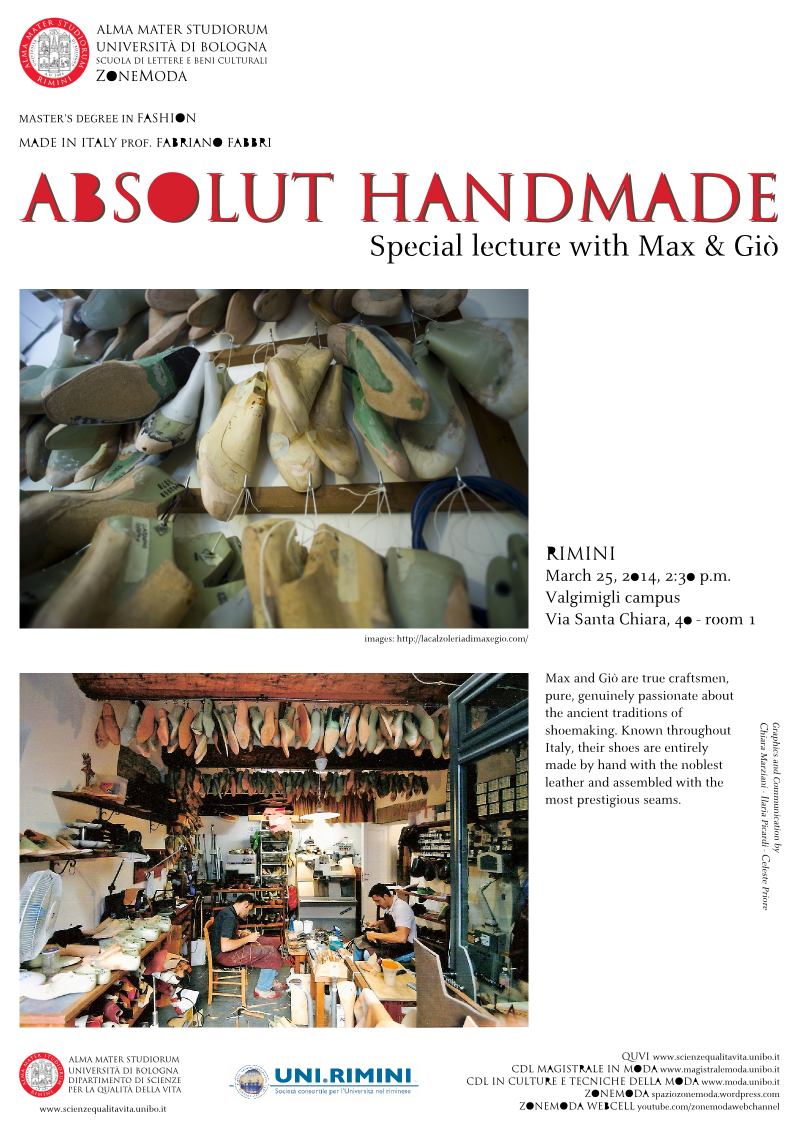 Absolut Handmade
Foto di Virginia Angius
Absolut Handmade
Lezione speciale con Max & Giò
RIMINI
25 Marzo 2014, ore 14:30
Sede Universitaria Valgimigli
Via Santa Chiara, 40 – aula 1
Docente: Fabriano Fabbri
Max e Giò sono artigiani veri, puri, autenticamente appassionati di antiche tradizioni dell'arte calzaturiera. Conosciuti in tutta Italia, le loro scarpe sono interamente eseguite a mano con i pellami più nobili e assemblate con le cuciture più prestigiose
LA CALZOLERIA DI MAX E GIO: PROTAGONISTE LE MANI
A Bologna, all'ombra delle due Torri, nel cuore dell'antico ghetto ebraico, più precisamente in via dell'Inferno, c'è un piccolo spazio custode di un grande patrimonio: l'arte del saper fare. Una piccola bottega dove, lontano dai riflettori, due giovani artigiani tutelano e difendono dalla dimenticanza una tradizione tramandata di mano in mano. Sono difatti le mani le vere protagoniste della storia imprenditoriale di Massimo Mazzucchi e Giovanni Cusimano, i due calzolai che nel 2008, dopo aver riscoperto un mestiere un tempo trasmesso di padre in figlio, decidono di inaugurare La calzoleria di Max e Gio.
Leggi l'articolo completo: La calzoleria di Max e Gio – a cura di Chiara Pompa, studentessa del corso di Laurea Magistrale in Moda
______________________________
Absolut Handmade
Special lecture with Max & Giò
RIMINI
March 25, 2014, 2:30 p.m.
Valgimigli campus
Via Santa Chiara, 40 – room 1
Max and Giò are true craftsmen, pure, genuinely passionate about the ancient traditions of shoemaking. Known throughout Italy, their shoes are entirely made ​​by hand with the noblest leather and assembled with the most prestigious seams. 
LA CALZOLERIA DI MAX E GIO: THE HANDS HAVE THE LEADING ROLE
In Bologna, in the shade of the Two Towers, in the heart of the old Jewish ghetto, more precisely in Via dell'Inferno, there is a small space guardian of a great heritage: the art of know-how. A small shop where, away from the bright lights, two young artisans protect and defend from the oblivion a tradition passed down from hand to hand. The hands are, in fact, the true stars of the entrepreneurial history by Massimo Mazzocchi and Giovanni Cusimano, two shoemakers that in 2008, having rediscovered a craft once handed down from father to son, decided to inaugurate La calzoleria di Max e Gio.
Read the full article: ENG_La calzoleria di Max e Gio  – by Chiara Pompa, Master's Degree Course in Fashion