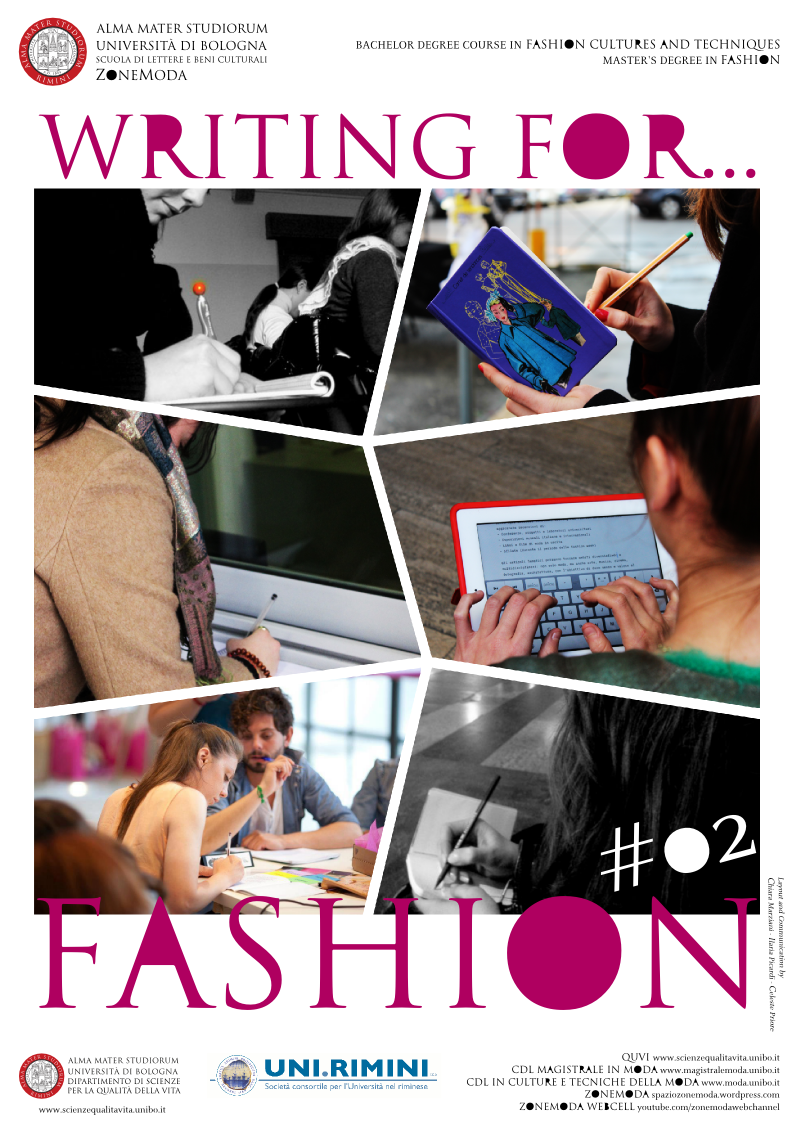 WRITING FOR FASHION #02
Università di Bologna / Campus di Rimini / Scuola di Lettere e Beni Culturali /Dipartimento di Scienze per la Qualità della Vita / ZoneModa
Corso di laurea in CULTURE E TECNICHE DELLA MODA www.moda.unibo.it
Corso di laurea magistrale in MODA www.magistralemoda.unibo.it
---
WRITING FOR FASHION #02

Allenare le proprie capacità di scrittura, indagare l'universo della moda, acquisire uno spiccato senso critico: questi gli obiettivi di Writing For Fashion #02, l'iniziativa contenuta nel macro contenitore SpazioZoneModa cha dà la possibilità ai nostri studenti di cimentarsi nelle vesti di giornalisti alle prime armi. Writing For Fashion #02 è pertanto uno spazio di partecipazione, confronto e sperimentazione che vive in nome dell'autentico valore della scrittura. Non solo scrittura di moda, ma anche arte, cinema, fotografia, architettura, televisione e nuovi media, per dare vita a una piccola realtà editoriale a 360 gradi.
Scarica la locandina in allegato per conoscere i metodi di partecipazione. Per richiedere maggiori informazioni scrivi a 
zonemodawriting@gmail.com
.
Visita inoltre il gruppo Facebook dedicato al progetto per rimanere aggiornato sulle ultime novità.
Blog: http://spaziozonemoda.wordpress.com
Pagina Facebook: SpazioZoneModa
Gruppo Facebook: Writing For Fashion #02
 Responsabile progetto Cecilia Cestari
---
WRITING FOR FASHION #02
Practicing writing skills, investigating the fashion world, acquiring a keen critical sense: these are the objectives of Writing For Fashion # 02. This initiative, contained in the macro container SpazioZoneModa, gives out students the possibility to test themselves as young fashion journalist. Therefore Writing For Fashion # 02 is a space for participation, discussion and experimentation, all in the name of the authentic value of writing. Not just fashion, but also art, cinema, photography, architecture, television and new media, to create a small publishing reality at 360 degrees.
Download the attached poster to know how collaborate for the blog. To ask more information you can write your questions to zonemodawriting@gmail.com. Then visit the Facebook Group dedicated to the project to discover news and activities.
Blog: https://spaziozonemoda.wordpress.com
Facebook FanPage: SpazioZoneModa
Facebook Group: Writing For Fashion #02