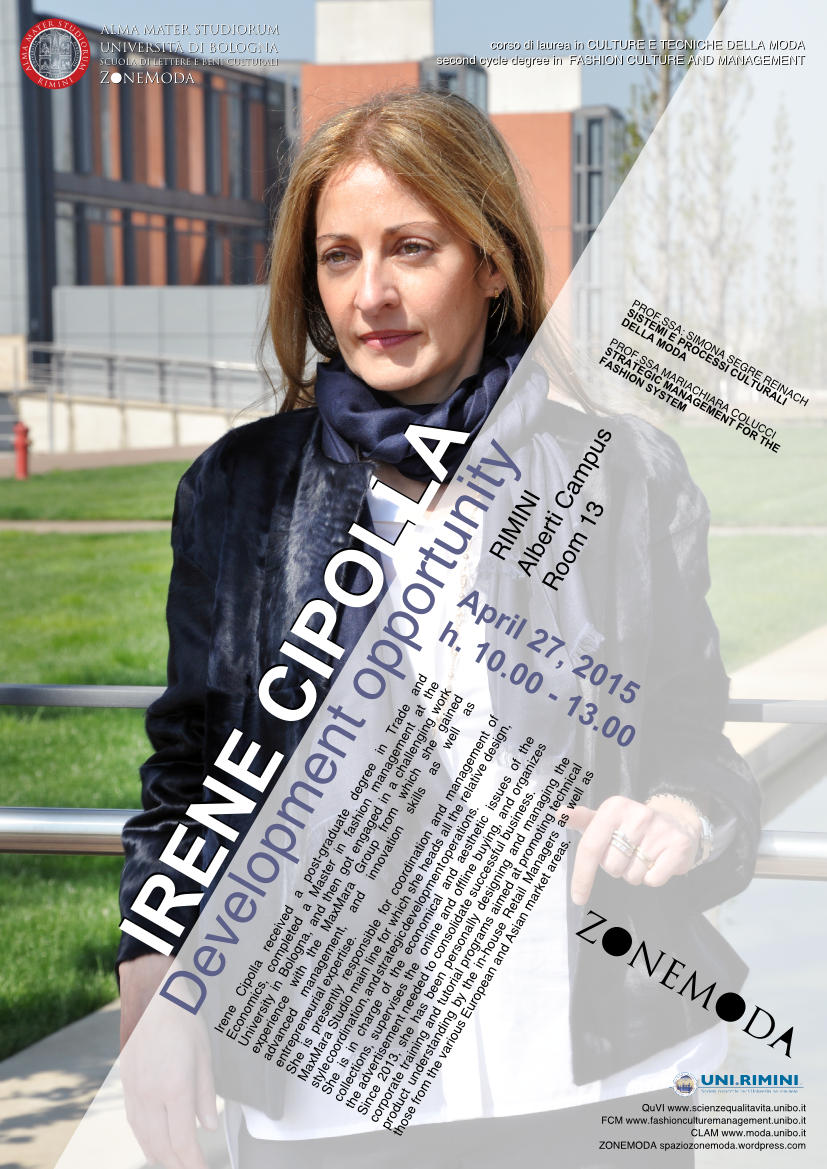 IRENE CIPOLLA Development opportunity
Università di Bologna / Campus di Rimini / Scuola di Lettere e Beni Culturali / Dipartimento di Scienze per la qualità della Vita / ZoneModa
Corso di Laurea in Culture e Tecniche della Moda – www.moda.unibo.it
PROF.SSA SIMONA SEGRE REINACH – SISTEMI E PROCESSI DELLA PRODUZIONE DI MODA
Second Cycle Degree in  Fashion Culture and Management – www.fashionculturemanagement.unibo.it
PROF.SSA MARIACHIARA COLUCCI – STRATEGIC MANAGEMENT FOR THE FASHION SYSTEM
ZoneModa spaziozonemoda.wordpress.com
ZoneModa WebCell youtube.com/zonemodawebchannel
———————————————————————————————————
IRENE CIPOLLA
Development opportunity
RIMINI
Alberti Campus, Room 13
April 27, 2015
10.00 – 13.00
Irene Cipolla received a post-graduate degree in Trade and Economics, completed a Master in fashion management at the University in Bologna, and then got engaged in a challenging work experience with the MaxMara Group from which she gained advanced management, and innovation skills as well as entrepreneurial expertise.
She is presently responsible for coordination and management of MaxMara Studio main line for which she heads all the relative design, style coordination, and strategic development operations.
She is in charge of the economical and aesthetic issues of the collections, supervises the  online and offline buying, and organizes the advertisement needed to consolidate successful business.
Since 2013, she has been personally designing and managing the corporate training and tutorial programs aimed at promoting technical product understanding by the in-house Retail Managers as well as those from the various European and Asian market areas.