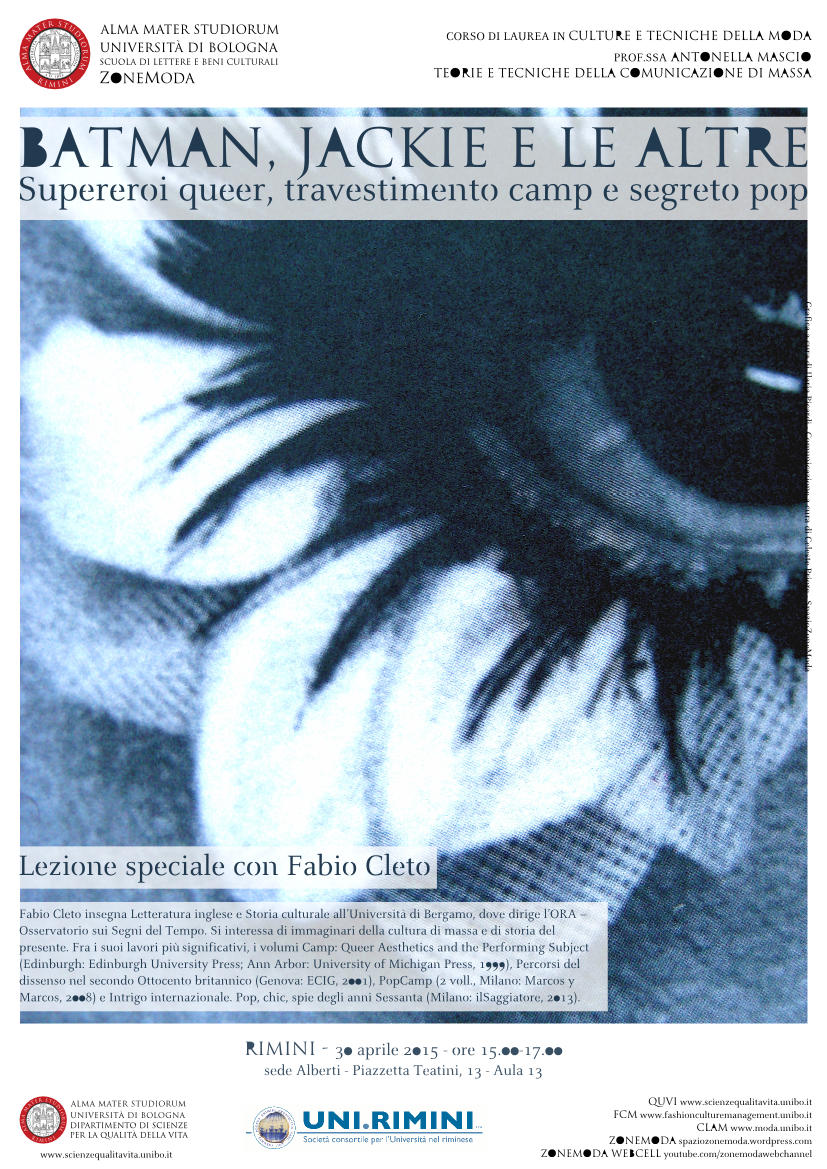 BATMAN, JACKIE E LE ALTRE. Supereroi queer, travestimento camp e segreto pop
Università di Bologna / Campus di Rimini / Scuola di Lettere e Beni Culturali / Dipartimento di Scienze per la qualità della Vita / ZoneModa
Corso di Laurea in Culture e Tecniche della Moda – www.moda.unibo.it
PROF.SSA Antonella Mascio – TEORIE E TECNICHE DELLA COMUNICAZIONE DI MASSA
ZoneModa spaziozonemoda.wordpress.com
ZoneModa WebCell youtube.com/zonemodawebchannel
———————————————————————————————————
BATMAN, JACKIE E LE ALTRE.
Supereroi queer, travestimento camp e segreto pop
giovedì 30 aprile
h.15.00 – 17.00
aula Alberti 13
Fabio Cleto insegna Letteratura inglese e Storia culturale presso l'Università di Bergamo, dove dirige l'ORA – Osservatorio sui Segni del Tempo. Si interessa di immaginari della cultura di massa e di storia del presente. Fra i suoi lavori più significativi, i volumi Camp: Queer Aesthetics and the Performing Subject (Edinburgh: Edinburgh University Press; Ann Arbor: University of Michigan Press, 1999), Percorsi del dissenso nel secondo Ottocento britannico (Genova: ECIG, 2001), PopCamp (2 voll., Milano: Marcos y Marcos, 2008) e Intrigo internazionale. Pop, chic, spie degli anni Sessanta (Milano: ilSaggiatore, 2013).
BATMAN, JACKIE AND THE OTHER GIRLS. Queer Superheroes, Camp Travesty and Pop Secrecy
Fabio Cleto teaches English Literature and Cultural History at the University of Bergamo. An authority on the theory and practice of camp, on which he has published three books (PopCamp, 2 vols., Milan, 2008; Per una definizione del discorso camp, Genoa, 2006; ed., Camp: Queer Aesthetics and the Performing Subject, Edinburgh & Ann Arbor, 1999), his research interests include cultural studies, queer issues, gender and the politics of representation, fin de siècle to postmodernist fiction. Besides consulting for prominent encyclopaedias (including the Routledge International Encyclopaedia of Queer Culture, 2006, and Umberto Eco's History of Ugliness, 2007), he has published books on nineteenth-century literary dissidence (2001), on Ronald Firbank (2012), on queer pulp (2004, 2008) and on mid-Sixties transatlantic culture (2013).