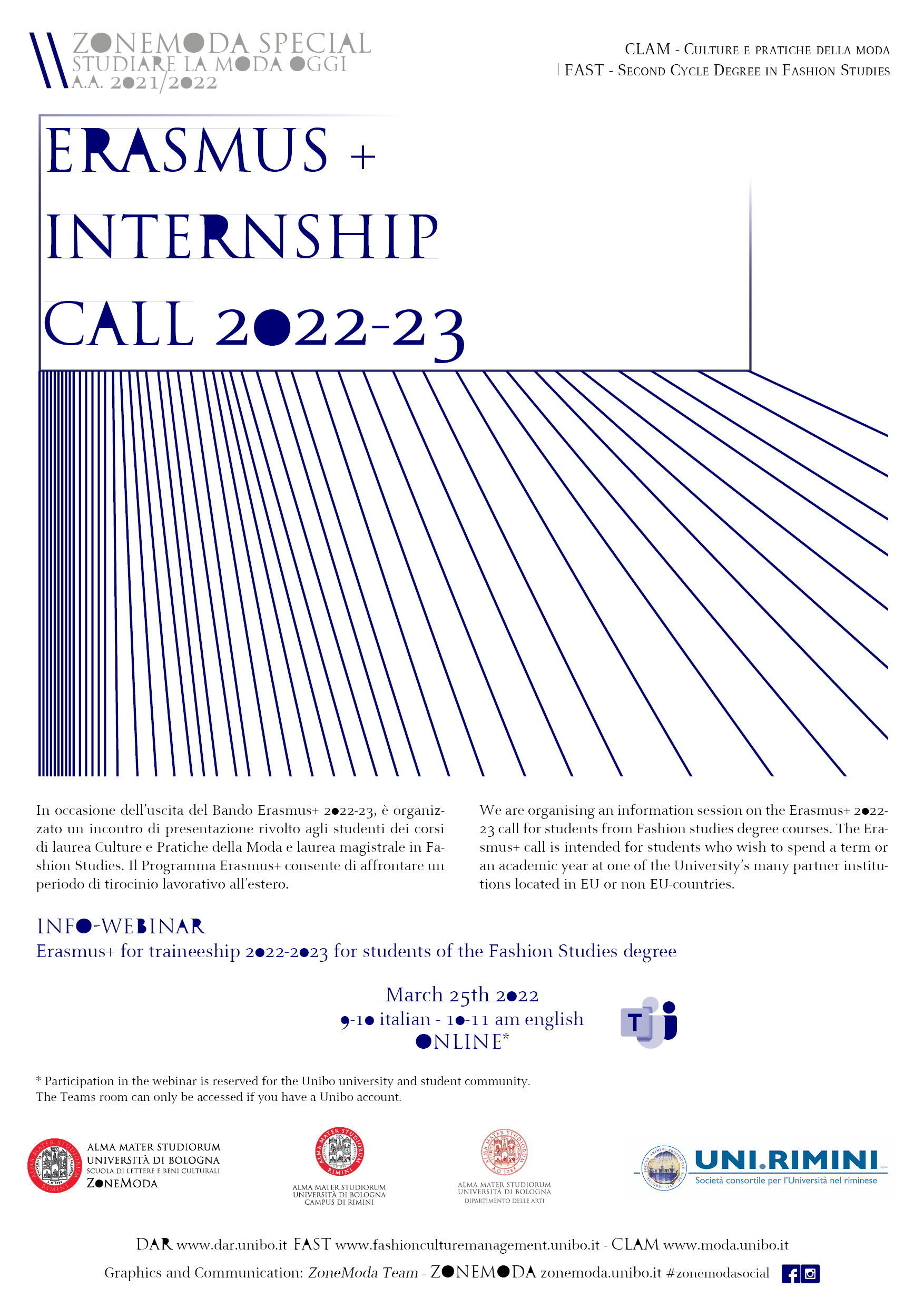 ERASMUS + INTERNSHIP CALL 2022-23
ZONEMODA SPECIAL STUDIARE LA MODA OGGI A.A. 2021/2022 CLAM
Culture e pratiche della moda | FAST – Second Cycle Degree in Fashion Studies
ERASMUS + INTERNSHIP CALL 2022-23
In occasione dell'uscita del Bando Erasmus+ 2022-23, è organizzato un incontro di presentazione rivolto agli studenti dei corsi di laurea Culture e Pratiche della Moda e laurea magistrale in Fashion Studies. Il Programma Erasmus+ consente di affrontare un periodo di tirocinio lavorativo all'estero.
We are organising an information session on the Erasmus+ 2022-23 call for students from Fashion studies degree courses. The Erasmus+ call is intended for students who wish to spend a term or an academic year at one of the University's many partner institutions located in EU or non EU-countries.
INFO-WEBINAR Erasmus+ for traineeship 2022-2023 for students of the Fashion Studies degree March 25th 2022 9-10 italian – 10-11 am english
ONLINE* LINK TO THE WEBINAR shorturl.at/huyHX
* Participation in the webinar is reserved for the Unibo university and student community. The Teams room can only be accessed if you have a Unibo account.
DAR www.dar.unibo.it FAST www.fashionculturemanagement.unibo.it – CLAM www.moda.unibo.it Graphics and Communication: ZoneModa Team – ZONEMODA zonemoda.unibo.it #zonemodasocial