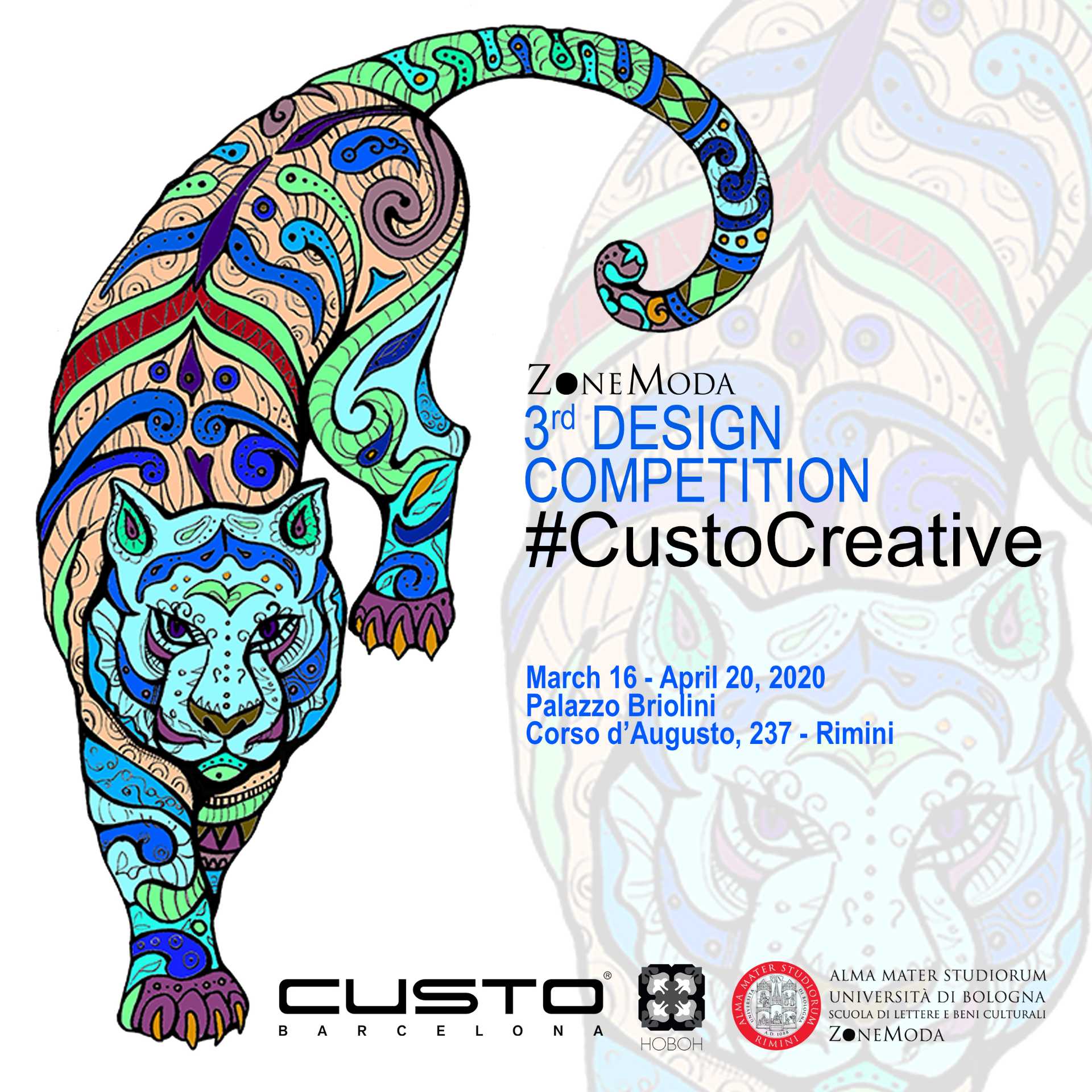 3rd DESIGN COMPETITION #CustoCreative
The competition's goal is to create a fashion design project consisting of a T-shirt, a promotional claim and packaging for Custo Barcelona based on the theme of Creativity.
Eligible students
The competition is open to 14 students of the Master in Fashion Studies, Bologna University – Rimini Campus, who will be selected on the basis of their CVs and average grades in relation to the number of university credits obtained by 27th February 2020.
Time frame
March 16 – April 20, 2020.
Organization
The competition simulates a work experience and, as such, will start with a brief provided by a representative of Custo Barcelona. After the brief, students will mainly work on their own but, on a weekly basis, design progress will be discussed with dedicated tutors. These meetings will be an opportunity to assess the state of work and discuss strategic choices. Students will work in pairs and will be asked to present their final work to the competition jury. All assessment criteria and scheduling will be presented and discussed during the kickoff meeting which will take place on March 16, 2020, at Palazzo Briolini.
Jury
The jury will be led by Mr Custo Dalmau, who will be joined by representatives of the promoters (Bologna University, Hoboh and Velmar S.p.A.). The jury will select the winning project based on: a) appropriateness to the initial brief, b) originality and c) feasibility. The final presentation of the work (oral and visual) will also be evaluated. The date of the final presentation and the award ceremony will be announced in the near future.
Prize
The project selected by the jury will be produced by Custo Barcelona in 100 pieces that will be offered for sale on the web worldwide. The authors will be given a sample and a garment of their choice from the 2020 collection.. Moreover, competition winners will be given the chance to acquire accredited work experience at Velmar S.p.A. Participants in the competition will be entitled to 6 CFU.
Project exhibition
On the occasion of the award giving ceremony all projects will be exhibited at the university and presented to the jury.
GENERAL PARTICIPATION CONDITIONS
Selection
Students will be selected on the basis of their CVs and average grades in relation to the number of university credits obtained on 20th February 2020. The CV must clearly list the computer graphics programs that the student is able to use.
To take part students must send an email to cdlm.fashion@unibo.it and the tutor in charge (andrea.serrau2@unibo.it) with their names and surnames, email addresses, details of exams passed and grades obtained and their CVs. Please attach a portfolio if you have one. Competition registration is open from February 7, 2020 to February 27, 2020. For any further information please write to andrea.serrau2@unibo.it or cdlm.fashion@unibo.it.
Official selection announcement February 7, 2020.
https://www.facebook.com/custo/?tn-str=k*F