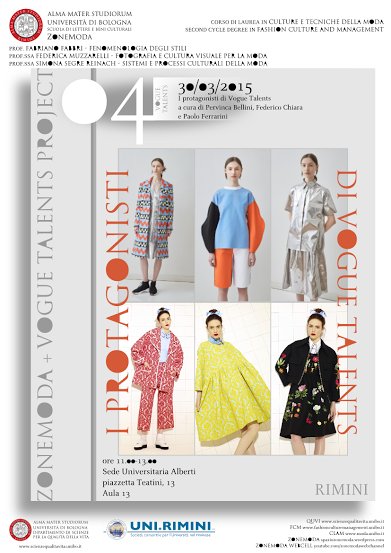 ZONEMODA + VOGUE TALENTS PROJECT 2014-2015 I protagonisti di Vogue Talents
Università di Bologna / Campus di Rimini / Scuola di Lettere e Beni Culturali / Dipartimento di Scienze per la qualità della Vita / ZoneModa
Corso in Culture e Tecniche della Moda – www.moda.unibo.it
Second  Cycle Degree in Fashion Culture and Management – www.fashionculturemanagement.unibo.it
Prof. Fabriano Fabbri /Fenomenologia degli Stili
Prof.ssa Federica Muzzarelli / Fotografia e Cultura Visuale per la Moda
Prof.ssa Simona Segre Reinach / Sistemi e Processi Culturali della Moda
ZoneModa spaziozonemoda.wordpress.com
ZoneModa WebCell youtube.com/zonemodawebchannel
———————————————————————————————————
ZONEMODA + VOGUE TALENTS PROJECT 2014-2015
I protagonisti di Vogue Talents
RIMINI
30 Marzo 2015
ore 11.00-13.00
Sede Universitaria Alberti
Piazzetta Teatini, 13
Aula 13
Il ciclo di incontri ZoneModa + Vogue Talents Project 2014-15 si conclude in nome della creatività grazie alla presenza di due ospiti d'eccezione: l'austriaco Arthur Arbesser, designer in grado di unire un distintivo segno stilistico a nuove modalità di display della moda, e l'italiana Vivetta Ponti, mente e mano del giocoso e colorato brand milanese Vivetta. Cosa li accomuna? L'aver entrambi sfilato – rispettivamente nel settembre 2013 e nel febbraio 2015 – sulla passerella dell'Armani Teatro, lo spazio dedicato da Re Giorgio al sostegno dei giovani designer emergenti durante le settimane della moda.
ZoneModa + Vogue Talents Project 2014-15_Vogue Talents Protagonists
The last lecture of the ZoneModa + Vogue Talents Project 2014-15 will be in the name of the most authentic creativity. Two special guests will tell their personal fashion experience: the Austrian designer Arthur Arbesser, able to combine distinctive stylistic signature with new ways of fashion display, and the Italian Vivetta Ponti, brawn and brains of the playful and colorful contemporary brand Vivetta. What do they have in common? They have both presented their collections – September 2013 and February 2015 respectively – on the Armani Teatro catwalk, the space dedicated by King Giorgio to the support of up-and-coming designers during the Milanese fashion weeks.