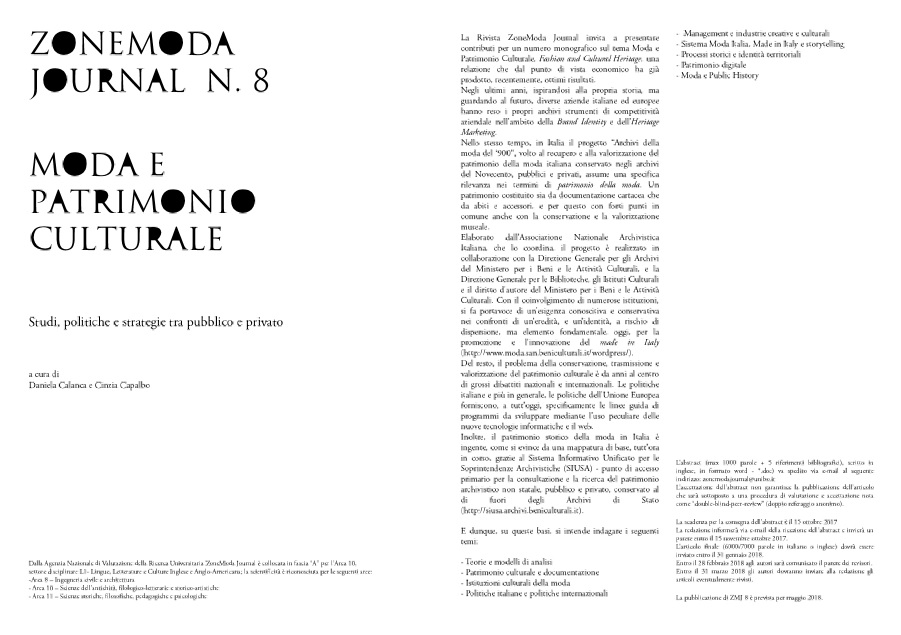 ZoneModa Journal 8: Moda e patrimonio culturale/ Call for Paper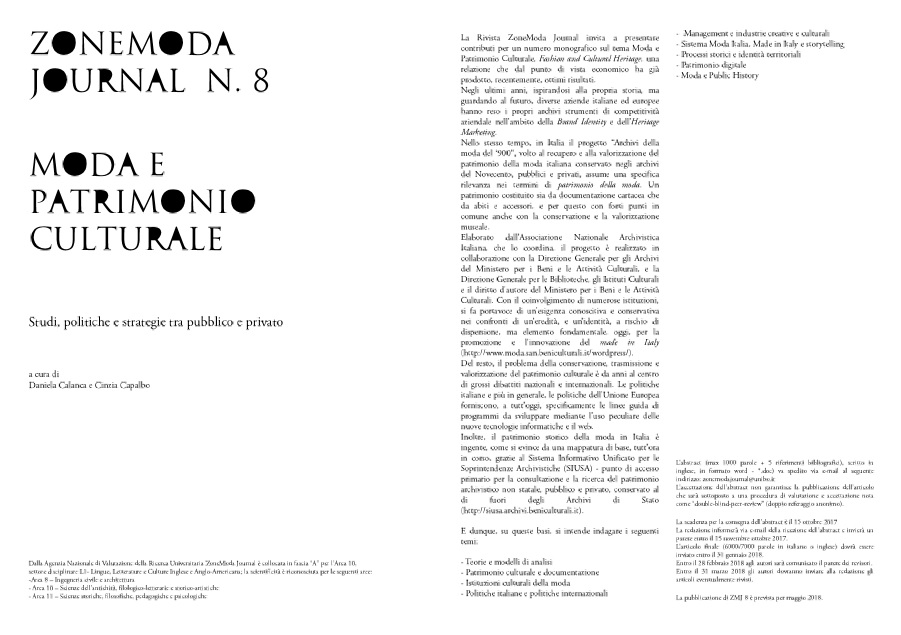 ZoneModa Journal Vol.8 n.1 è online
Studi, politiche e strategie tra pubblico e privato
A cura di Daniela Calanca e Cinzia Capalbo
La CALL FOR PAPER è scaricabile qui
L 'abstract (max 1000 parole + 5 riferimenti bibliografici), scritto in inglese, in formato word – *.doc) va spedito via e-mail al seguente indirizzo: zonemodajournal@unibo.it
L'accettazione dell'abstract non garantisce la pubblicazione dell'articolo che sarà sottoposto a una procedura di valutazione e accettazione nota come "double-blind-peer-review" (doppio referaggio anonimo).
La scadenza per la consegna dell'abstract è il 15 ottobre 2017 La redazione informerà via e-mail della ricezione dell'abstract e invierà un parere entro il 15 novembre ottobre 2017.
L'articolo finale (6000/7000 parole in italiano o inglese) dovrà essere inviato entro il 31 gennaio 2018. Entro il 28 febbraio 2018 agli autori sarà comunicato il parere dei revisori. Entro il 31 marzo 2018 gli autori dovranno inviare alla redazione gli articoli eventualmente rivisti.
La pubblicazione di ZMJ 8 è prevista per maggio 2018.
Gli articoli con un livello di inglese non ritenuto idoneo ai parametri scientifici internazionali non saranno tenuti in considerazione.
ENGLISH VERSION
Studies, policies and strategies between the public and private sector
Guest editors: Daniela Calanca and Cinzia Capalbo
To download the CALL FOR PAPER click here
Abstracts (no more than 1000 words + 5 bibliographical references, word – *.doc format), written in English, are to be sent to: zonemodajournal@unibo.it Abstract acceptance does not guarantee publication of the article, which will be submitted to a double-blind peer-review process.
The abstract submission deadline is October 15th 2017. The editorial staff will inform the authors of abstract reception by email, and will notify its acceptance (which might include comments and requests ofexplanations) by November 15th 2017.
The full-length paper (6000-7000 words, in Italian or English) should be submitted by January 31st 2018. Reviewers' comments will be sent to the authors by February 28th 2018. Authors shall send the improved article to the editorial staff by March 31st 2018.
ZMJ 8 is scheduled to be published in May 2018.