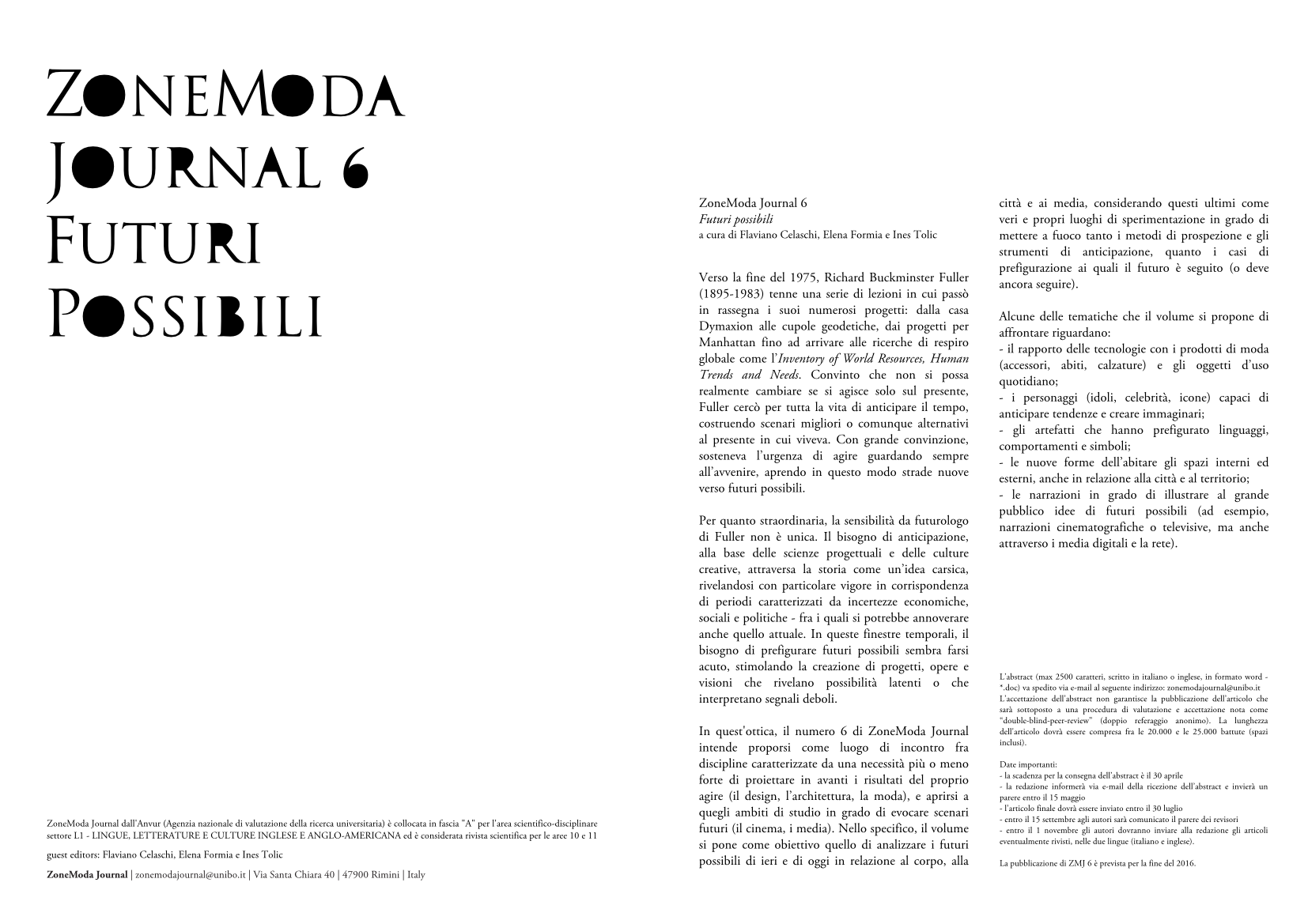 ZoneModa Journal 6: FUTURI POSSIBILI / Call for Paper
ITALIAN VERSION
Posticipo della deadline
ZoneModa Journal vol. 6:
FUTURI POSSIBILI 
a cura di Flaviano Celaschi, Elena Formia e Ines Tolic
La CALL FOR PAPER è scaricabile qui: ZoneModa Journal 6_FuturiPossibili_ITA
L'abstract (compreso tra 2.000 e 2.500 caratteri spazi inclusi, scritto in italiano o inglese, in formato word – *.doc) va consegnato via e-mail all'indirizzo: zonemodajournal@unibo.it.
La scadenza per la consegna dell'abstract è posticipata al 15 maggio 2016.
La redazione informerà via e-mail della ricezione dell'abstract e invierà un parere entro il 15 maggio 2016; se l'abstract sarà accettato, l'articolo finale dovrà essere inviato entro il 30 luglio 2016. Entro il 15 settembre 2016 agli autori sarà comunicato il parere dei revisori ed entro il 1 Novembre 2016 gli autori dovranno inviare alla redazione gli articoli eventualmente rivisti nelle due lingue (italiano e inglese).
Gli articoli con un livello di inglese non ritenuto idoneo ai parametri scientifici internazionali non sarà tenuto in considerazione.
La pubblicazione di ZoneModa Journal vol. 6 è prevista per la fine del 2016.
---
ENGLISH VERSION
The editorial staff is glad to announce the topic of the next ZoneModa Journal vol. 6:
POSSIBLE FUTURES
edited by Flaviano Celaschi, Elena Formia and Ines Tolic
To download the CALL FOR PAPER: ZoneModa Journal 6_Possible Futures_ENG
The abstract (max 2500 types, in Italian or English, in Word format – *.doc) should be submitted to: zonemodajournal@unibo.it.
The deadline is extended until May, 15th 2016.
The editorial staff will inform you of the abstract receipt and will send an opinion by May, 15th 2016; the selected authors are requested to submit the final essay by July, 30th, 2016.
The decision of the peer reviewers will be communicated to the authors by September, 15th 2016; peer reviewed essays have to be sent back to the editorial staff both in Italian and in English by November 1st, 2016.
ZoneModa Journal vol. 6 is scheduled to be published at the end of 2016.