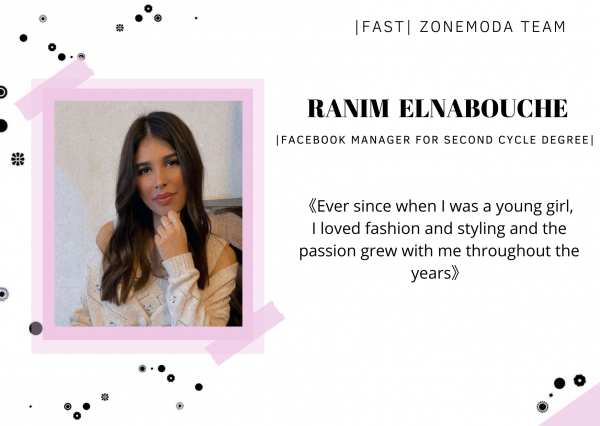 Ranim Elnabouche – FAST Zonemoda Team
My Name is Ranim Elnabouche, and I would describe myself in three words: passionate, creative, and energetic.
I have the vision of art, design, manage, and style, where 
I come from a family of creative artists, that gave me the push to focus on my artistic side, and to achieve my artistic dreams, Ever since when I was a young girl, I loved fashion and styling and the passion grew with me throughout the years.
I graduated from the American University of Science and Technology (AUST) with a bachelor degree in fashion design/stylist, and launched impressively my first collection in 2020 that was inspired by the Baalbek Roman Empire, the collection was particularly special to me as a "matter of identity", since I am from the ancient city of Baalbek, and I sought out to express my views on my hometown which proclaims in an empowering tribute to women, and that was also a push to move forward in fashion more and discover the fashion world deeply.
During my career I have gained experience of various industries across the board where I was responsible for Styling and Designing,
like Music Videos and Tv Commercials. Moreover, I has earned a certified internship from Elie Saab fashion house, in addition to other to internships and works that have helped her acquire several theoretical and practical skills. But it does not stop here ! I continue to implement my dream, goal and career by enrolling in a masters degree course as a fashion manager that support me and give me the ability and the chance to manage a fashion company.
Fashion is like an infinte word to me, that has never an end, where day by day there is a new concept and a new vision to express myself.
I decided to participate in ZoneModa for various reasons, first of all from a personal side to get engaged within the university environment and activities, and to be a useful person, where I would like to spread fashion ideas and to be helpful for others who want to engage in the fashion world, where my task is to be an active member on social media where I published content such as fashion events, workshops, special lessons, … that the university hold. I therefore handle with my colleagues anything that has to do with the connection and communication between student initiatives and university activities.
I will end up this with Bill Cunningham words: " Fashion is the armor to survive the reality of everyday life."