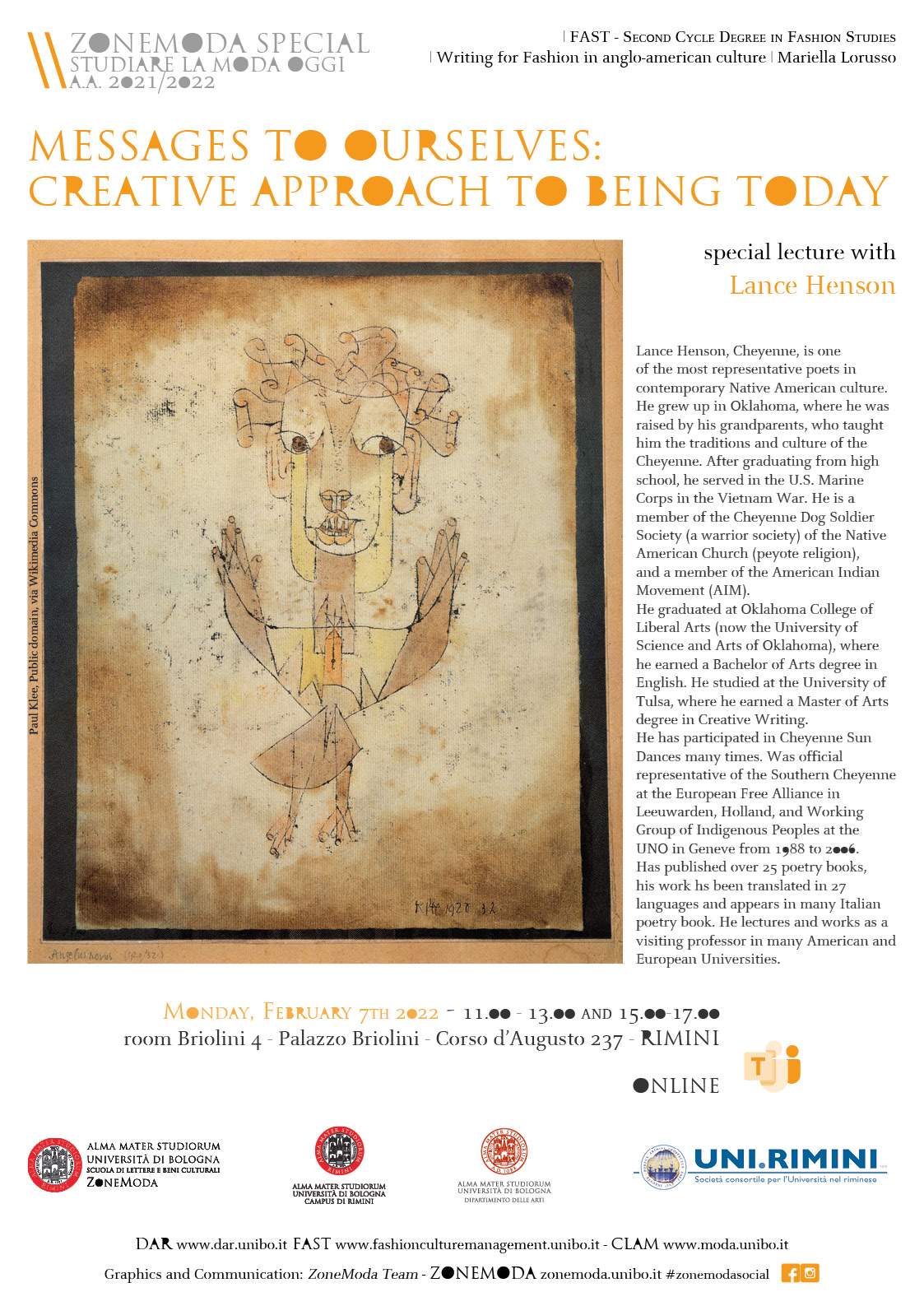 Messages to Ourselves: Creative Approach to Being Today
FAST –| second Cycle Degree in Fashion Studies
| Writing for Fashion in anglo-american culture | Mariella Lorusso
Messages to Ourselves:
Creative Approach to Being Today
special lecture with
Lance Henson
Lance Henson, Cheyenne, is one of the most representative poets in contemporary Native American culture. He grew up in Oklahoma, where he was raised by his grandparents, who taught him the traditions and culture of the Cheyenne. After graduating from high school, he served in the U.S. Marine Corps in the Vietnam War. He is a member of the Cheyenne Dog Soldier Society (a warrior society) of the Native American Church (peyote religion), and a member of the American Indian Movement (AIM).
He graduated at Oklahoma College of Liberal Arts (now the University of Science and Arts of Oklahoma), where he earned a Bachelor of Arts degree in English. He studied at the University of Tulsa, where he earned a Master of Arts degree in Creative Writing.
He has participated in Cheyenne Sun Dances many times. Was official representative of the Southern Cheyenne at the European Free Alliance in Leeuwarden, Holland, and Working Group of Indigenous Peoples at the UNO in Geneve from 1988 to 2006. Has published over 25 poetry books, his work hs been translated in 27 languages and appears in many Italian poetry book. He lectures and works as a visiting professor in many American and European Universities.
Monday, February 21th 2022 – 11.00 – 13.00 and 15.00-17.00
room Briolini 4 – Palazzo Briolini – Corso d'Augusto 237 – RIMINI
ONLINE
*La partecipazione alla lezione online è riservata alla comunità universitaria e studentesca Unibo. Si può accedere alla stanza Teams solo se in possesso di un account Unibo.
link to the lecture shorturl.at/hkuyX