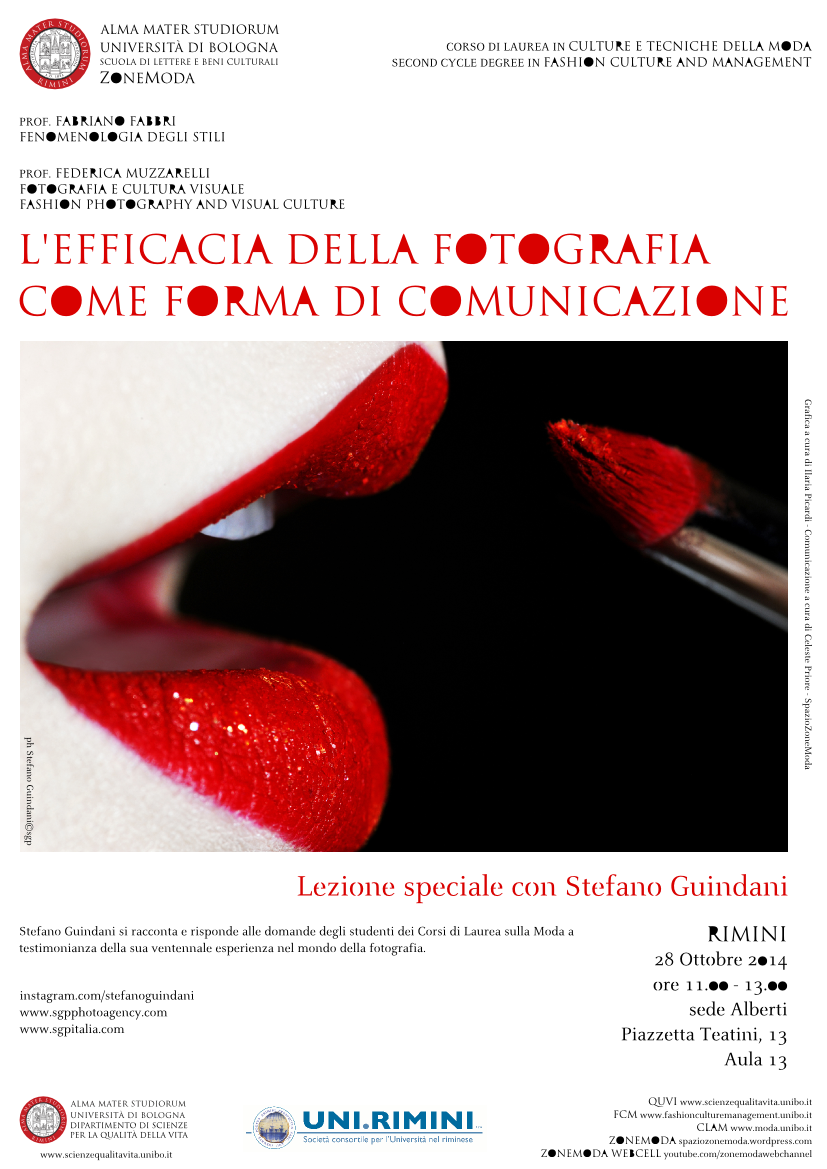 L'EFFICACIA DELLA FOTOGRAFIA COME FORMA DI COMUNICAZIONE – Stefano Guindani
Università di Bologna / Campus di Rimini / Scuola di Lettere e Beni Culturali / Dipartimento di Scienze per la qualità della Vita /ZoneModa
Corso di Laurea  in Culture e Tecniche della Moda www.moda.unibo.it
Second Cycle Degree in Fashion Culture and Management www.fashionculturemanagement.unibo.it
 Insegnamento: Fenomenologia degli Stili  / docente: PROF. FABRIANO FABBRI
Insegnamento: Fashion Photography and Visual Culture
Fotografia e Cultura Visuale / docente: PROF.SSA FEDERICA MUZZARELLI
ZoneModa spaziozonemoda.wordpress.com
ZoneModa WebCell youtube.com/zonemodawebchannel
———————————————————————————————————
Rimini, 28 ottobre 2014, ore 11.00
Presso la sede universitaria Alberti, Piazzetta Teatini, 13, Aula 13.
L'EFFICACIA DELLA FOTOGRAFIA COME FORMA DI COMUNICAZIONE
Stefano Guindani si racconta e risponde alle domande degli studenti dei Corsi di Laurea sulla Moda a testimonianza della sua ventennale esperienza nel mondo della fotografia.
STRENGTH OF PHOTOGRAPHY AS A FORM OF COMMUNICATION
Stefano Guindani talks about himself and his twenty-year experience in the world of photography and he answers the questions of the Fashion Degree courses students.