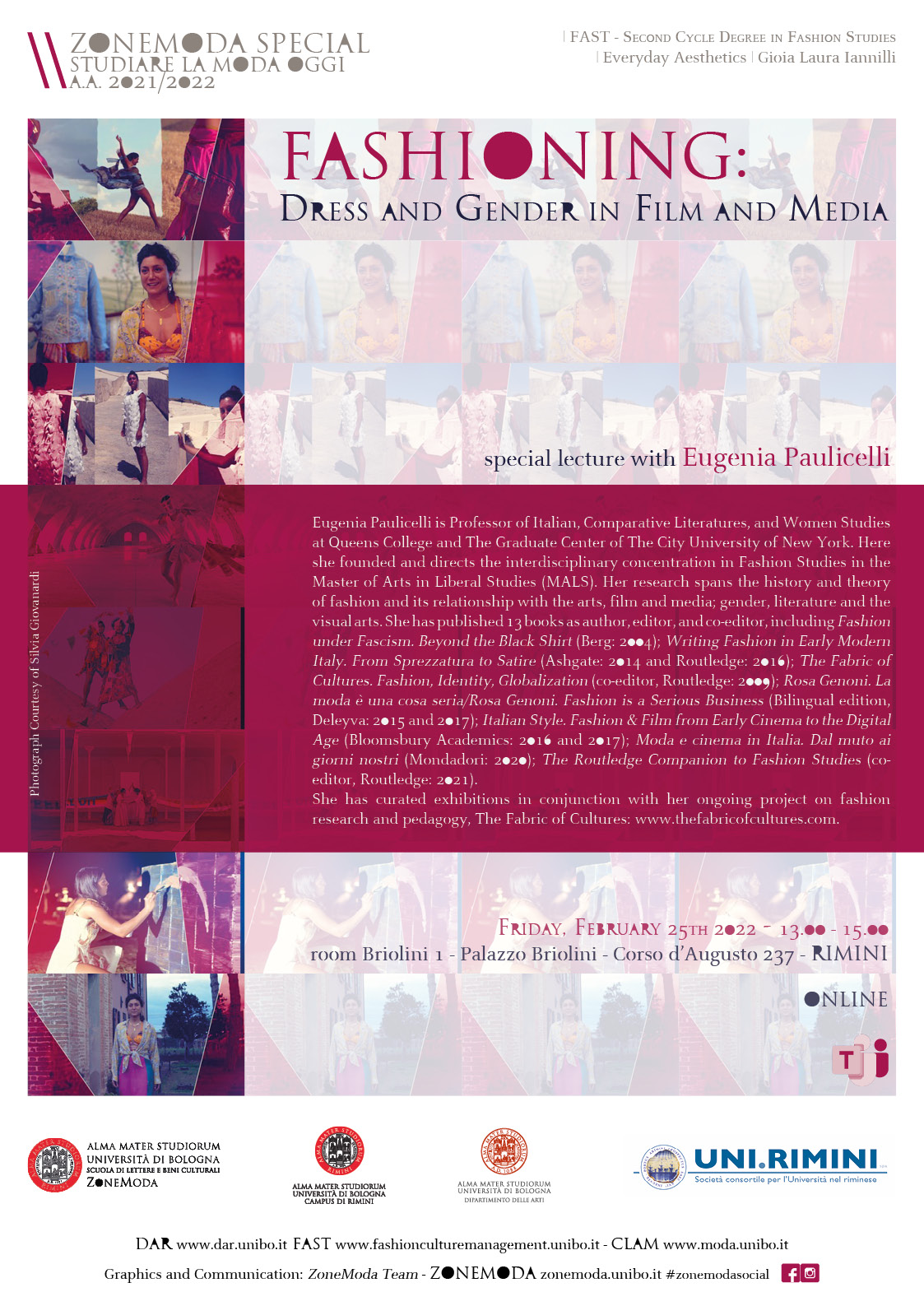 Fashioning: Dress and Gender in Film and Media
FAST | second Cycle Degree in Fashion Studies
| Everyday Aesthetics | Gioia Laura Iannilli
Fashioning:
Dress and Gender in Film and Media
special lecture with Eugenia Paulicelli
Eugenia Paulicelli is Professor of Italian, Comparative Literatures, and Women Studies at Queens College and The Graduate Center of The City University of New York. Here she founded and directs the interdisciplinary concentration in Fashion Studies in the Master of Arts in Liberal Studies (MALS). Her research spans the history and theory of fashion and its relationship with the arts, film and media; gender, literature and the visual arts. She has published 13 books as author, editor, and co-editor, including Fashion under Fascism. Beyond the Black Shirt (Berg: 2004); Writing Fashion in Early Modern Italy. From Sprezzatura to Satire(Ashgate: 2014 and Routledge: 2016); The Fabric of Cultures. Fashion, Identity, Globalization (co-editor, Routledge: 2009); Rosa Genoni. La moda è una cosa seria/Rosa Genoni. Fashion is a Serious Business (Bilingual edition, Deleyva: 2015 and 2017); Italian Style. Fashion & Film from Early Cinema to the Digital Age (Bloomsbury Academics: 2016 and 2017); Moda e cinema in Italia. Dal muto ai giorni nostri (Mondadori: 2020); The Routledge Companion to Fashion Studies(co-editor, Routledge: 2021).
She has curated exhibitions in conjunction with her ongoing project on fashion research and pedagogy, The Fabric of Cultures: www.thefabricofcultures.com.
Friday, February 25th 2022 – 13.00 – 15.00
room Briolini 1 – Palazzo Briolini – Corso d'Augusto 237 – RIMINI
ONLINE*
link to the lecture shorturl.at/gvwyV
* Participation in the online lesson is reserved for the Unibo university and student community. The Teams room can only be accessed if you have a Unibo account.