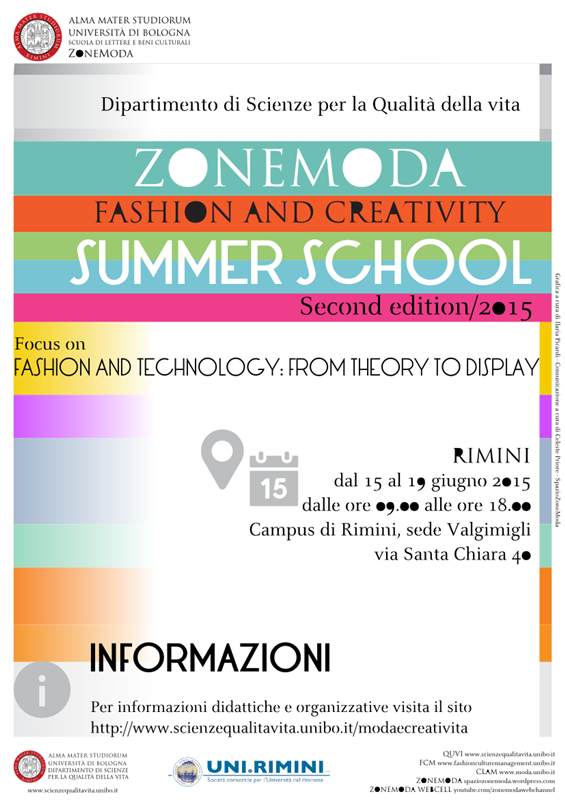 Fashion and Creativity Summer School 2015
ZoneModa
Fashion and Creativity Summer School
Second edition/2015
Focus on
Fashion and Technology: from Theory to Display
Enrolment to the second edition of "Fashion and Creativity Summer School" (Department For Life Quality Studies, University of Bologna) will start on February 2nd  2015.
This year the focus is on the relationship between Fashion and Technology, from theory to the display of fashion archives.
In addition to the special lessons of national and international fashion academics (Vittoria Caterina Caratozzolo, Università La Sapienza, Rome and Wessie Ling, Northumbria University, Newcastle, U.K.), the program envisages the participation of experts in Creative Thinking (Giovanni Corazza from MIC), specialists of fashion archiving (Marco Ruffino from Europeana and Pietro Turi from Condé Nast) and protagonists who are able to share their personal experience in fashion system (Carlotta Catrani from Jo No Fui).
A practical workshop organized by ZoneModa will apply to all coherent theoretical lessons: by using tools and methods of offline and online research a digital timeline will be created involving students.. Direct study will take place during the visit at Archivi di Ricerca Mazzini. These Archives are an excellent reality of conservation and promotion of fashion heritage as they contain over 250.000 clothes and accessories.
To know more about the program, the workshop and the application procedure, please download attachments and visit the website.
http://www.lifequalitystudies.unibo.it/fashionandcreativity
ZoneModa
Fashion and Creativity Summer School
Second edition/2015
Focus on
Fashion and Technology: from Theory to Display
Dal 2 febbraio 2015 sono aperte le iscrizioni per la seconda edizione della Fashion and Creativity Summer School (Dipartimento di Scienze per la qualità della vita/Università di Bologna) che quest'anno avrà come focus il rapporto tra Moda e Tecnologia, dalla teoria al display dell'archivio digitale.
Accanto agli interventi di studiosi della moda nazionali e internazionali (Vittoria Caterina Caratozzolo da La Sapienza di Roma e Wessie Ling dalla Northumbria University), il corso prevede la partecipazione di studiosi del Creative Thinking (Giovanni Corazza dal MIC), esperti di progetti di archivi del fashion (Marco Ruffino da Europeana e Pietro Turi da Condé Nast) e protagonisti in grado di raccontare la moda in prima persona (Carlotta Catrani da Jo No Fui).
Un workshop a cura di ZoneModa farà da collante agli interventi così da far sperimentare ai partecipanti la creazione di una timeline digitale grazie alla collaborazione con gli Archivi di Ricerca Mazzini, una realtà d'eccellenza del vintage costituita da 250.000 pezzi tra capi e accessori di moda.
In collaborazione con UniRimini S.p.a.
Per altre info e per scaricare programma, contenuti del workshop e modalità di iscrizione vedi gli allegati e consulta il sito: