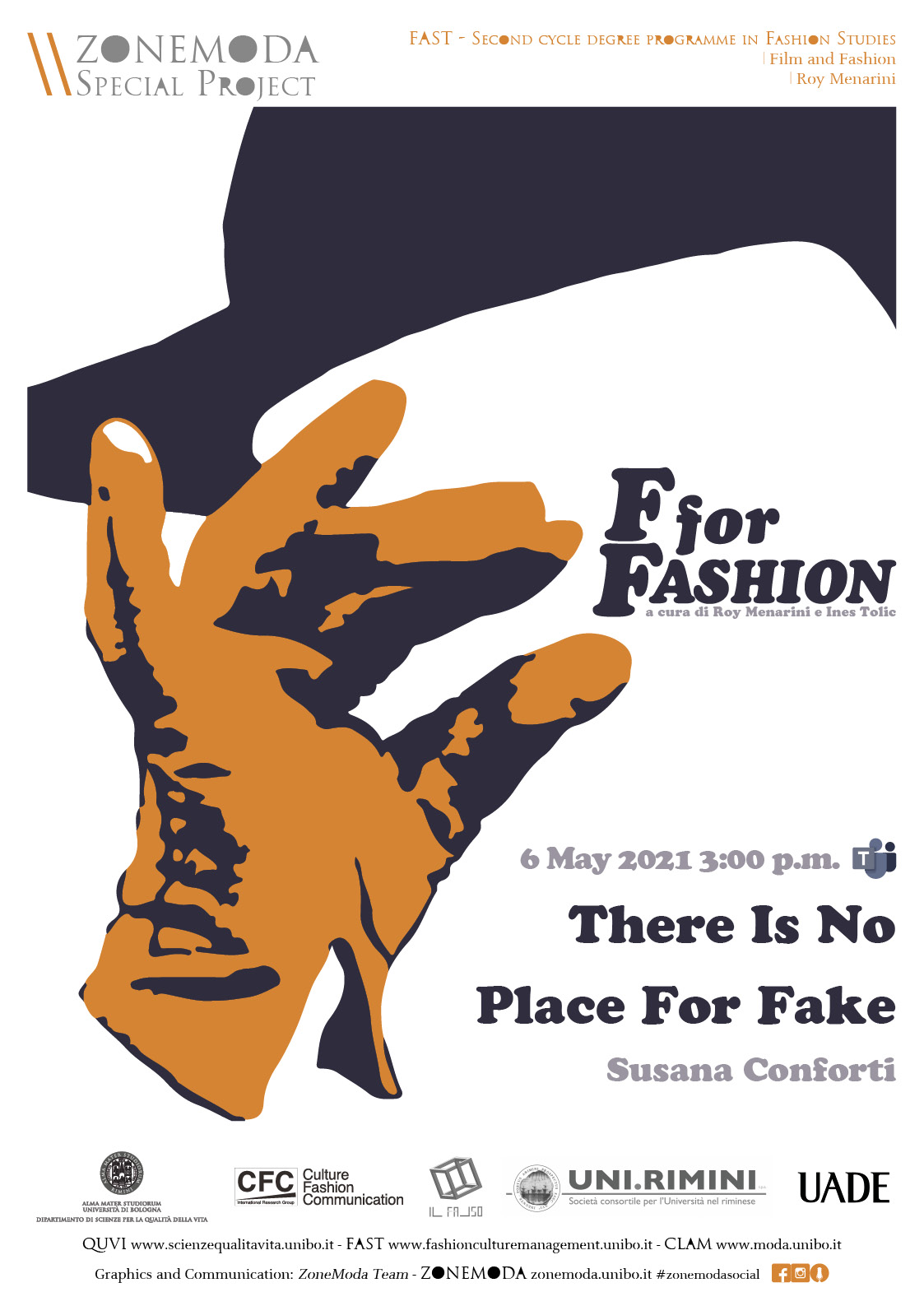 F for Fashion: There Is No Place for Fake
FAST – Second cycle degree programme in Fashion Studies
| Film and Fashion
| Roy Menarini
|F for Fashion| 11°episode
May 6 at 3.00 PM on Teams


There Is No Place for Fake
Susana Conforti
Breaking news: Bonus Track! F for Fashion is pleased to add another important episode to the project, hosting a lecture by Susana Conforti, Full Professor at Universidad Argentina de la Empresa (UADE)/ Faculty of Architecture & Design.
With this speech she will investigate the taste for the truth in the hypermodern society and the search for the authentic coexists with a growing dominance of the fake.
As she observes, people like to carry products that are a copy of others at least to feel the illusion of the original promise. That is why it is also a society of artificiality, false luxury, authentic junk and virtual truth.
Nowadays, with the pandemic we have to see fashion in the human behavior of society. The human being needs to return to the authentic, to form awareness about the world in which he lives and project his next step to create his future.
The professor also says that changes today occur through culture, the transmission of knowledge, ethical conduct and social responsibility. Consequently, the design activity implies to answer creatively in an honest way. The designer is at the service of the community.
On the other hand, companies must innovate, return to the pure values of quality and authenticity. They have to produce textiles that are biodegradable, or at least recyclable and non-polluting. Therefore, innovation must be aligned with the so-called "green agenda" and ethical production. Sustainability is a way of making fashion genuine or less fake and turning into authenticity implies thinking from the human being point of view. There is a new system of making things, there is a new economy.
There is no place for FAKE.
The lecture will be introduced by Roy Menarini and held within the course of Film and Fashion, Master in Fashion Studies, Alma Mater Studiorum – Università di Bologna – Rimini Campus 

Join us on TEAMS: shorturl.at/atAO4