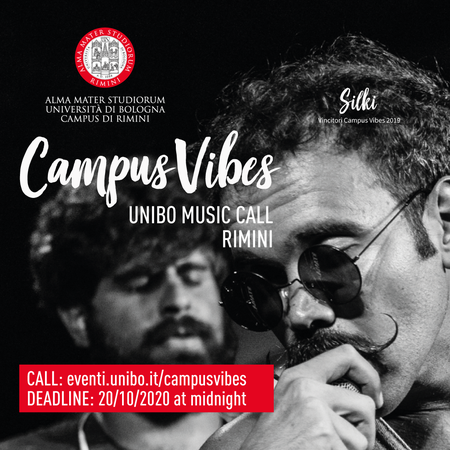 "Campus Vibes" – edizione 2020
L'iniziativa musicale, ideata dal Campus di Rimini, per valorizzare capacità e talenti creativo-musicali tra gli studenti dell'Alma Mater Studiorum – Università di Bologna
Studi all'Università di Bologna? Sei un cantante o un musicista?
Partecipa alla call musicale del Campus di Rimini "Campus Vibes" – edizione 2020. Il tuo progetto musicale potrà essere selezionato e pubblicato sui canali social. I più votati saranno ospiti di una trasmissione radiofonica di #radioicaro e/o di una trasmissione televisiva di #icaroTV.
Scadenza call: martedì 20 ottobre 2020 alle ore 24:00.
Campus Vibes is the musical initiative, created by the Universtiy of Bologna – Rimini Campus, aimed to identify and promote creative-musical skills among the students of the Alma Mater Studiorum – University of Bologna
Are you a singer or a musician and are you studying at the University of Bologna?
Join the #campusvibes 2020, the Rimini Campus music call .Your music project could be selected and promoted on the University social media channels. The most voted ones will be hosted in radio and/or tv program#radioicaro #icaroTV  
Deadline call: 20th October 2020 at midnight 
https://eventi.unibo.it/campusvibes