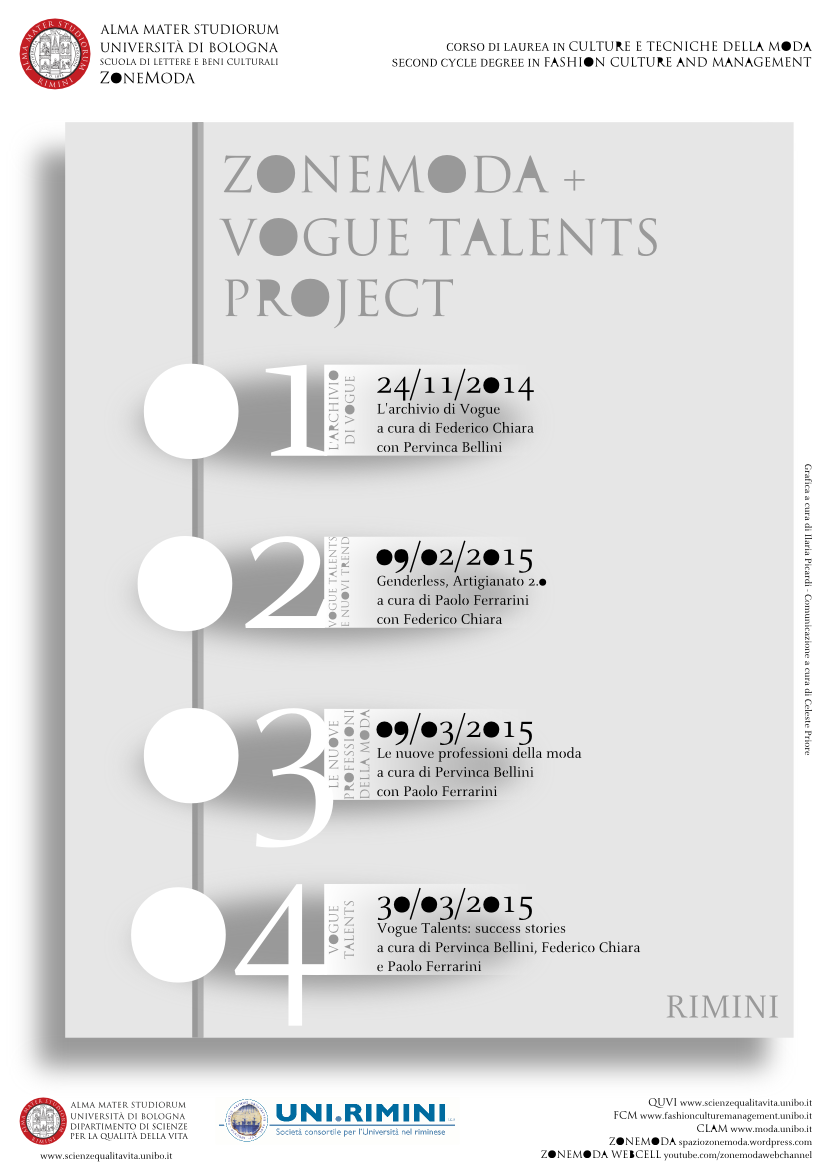 ZONEMODA + VOGUE TALENTS PROJECT 2014-2015
Università di Bologna / Campus di Rimini / Scuola di Lettere e Beni Culturali / Dipartimento di Scienze per la qualità della Vita / ZoneModa
Corso in Culture e Tecniche della Moda – www.moda.unibo.it
Second  Cycle Degree in Fashion Culture and Management – www.fashionculturemanagement.unibo.it
ZoneModa spaziozonemoda.wordpress.com
ZoneModa WebCell youtube.com/zonemodawebchannel
———————————————————————————————————
ZONEMODA + VOGUE TALENTS PROJECT 2014-2015
Continua la collaborazione tra ZoneModa e Vogue Italia che quest'anno partirà il 24 novembre 2014 con un primo appuntamento dedicato ai 50 anni di storia della rivista, raccontata attraverso il nuovo progetto digitale Vogue Archive. Durante gli incontri gli studenti di moda dell'Università di Bologna/Campus di Rimini avranno la possibilità di confrontarsi con importanti figure del settore moda e con il lavoro di giovani designer sostenuti dall'ormai decennale iniziativa Vogue Talents. Alla tappa introduttiva seguiranno infatti tre successive giornate:
9 Febbraio 2015 – "Tendenze emergenti e Vogue Talents"
23 Marzo 2015 – "Le nuove professioni della Moda"
30 Marzo 2015 – "I protagonisti di Vogue Talents"
ZoneModa + Vogue Talents Projects è un'occasione preziosa per osservare il panorama della moda italiana nelle sue diverse sfaccettature e prospettive future. A guidare gli appuntamenti si alterneranno Elisa Pervinca Bellini, Federico Chiara e Paolo Ferrarini. Accanto a loro ospiti e invitati speciali tra professionisti del settore moda, esperti e designer.
 ZONEMODA + VOGUE TALENTS PROJECT 2014-2015
The collaboration between ZoneModa and Vogue Italia continues. The first appointment, on November 24th 2014, is dedicated to the 50th anniversary of the historical magazine celebrated by the new "Vogue Archive" digital project. These special lectures will give the University of Bologna /Rimini Campus fashion students the opportunity of meeting prominent personalities of the fashion world and to see the work of young designers supported by the ten-year initiative of "Vogue Talents".
Three other appointments will follow:
February 9, 2015 – "Emerging trends and Vogue Talents"
March 23, 2015  –  "New Fashion Professions"
March 30, 2015 –  "Vogue Talents Protagonists"
ZoneModa + Vogue Talents Project is a precious opportunity to observe, from several viewpoints, the Italian fashion scene and its future perspectives.
Elisa Pervinca Bellini, Federico Chiara and Paolo Ferrarini, together with their hosts and special guests ranging from fashion professionals, experts and designers, will in turn lead the discussions.