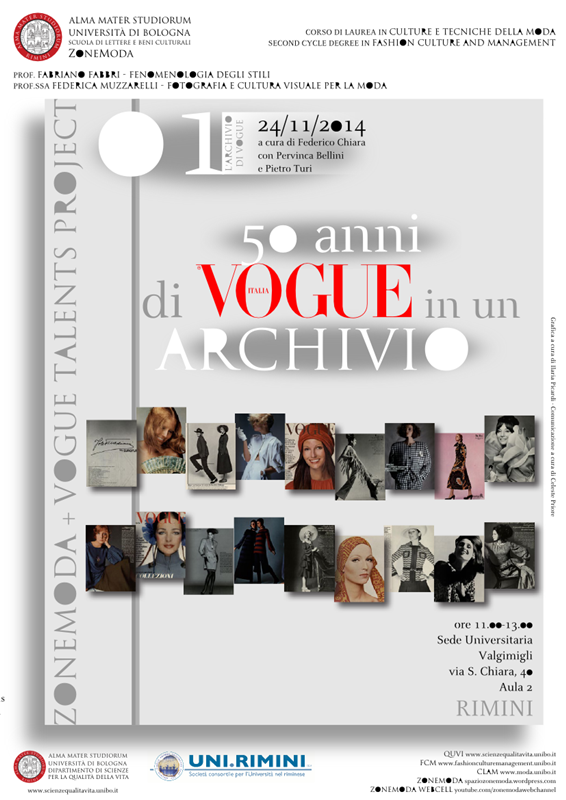 Vogue project: 50 ANNI DI VOGUE IN UN ARCHIVIO
Fotografie di Celeste Priore Università di Bologna / Campus di Rimini / Scuola di Lettere e Beni Culturali / Dipartimento di Scienze per la qualità della Vita / ZoneModa Corso in Culture e Tecniche della Moda – www.moda.unibo.it Second  Cycle Degree in Fashion Culture and Management – www.fashionculturemanagement.unibo.it PROF. FABRIANO FABBRI – FENOMENOLOGIA DEGLI STILI PROF.SSA FEDERICA MUZZARELLI – FOTOGRAFIA E CULTURA VISUALE PER LA MODA   ZoneModa spaziozonemoda.wordpress.com ZoneModa WebCell youtube.com/zonemodawebchannel   ——————————————————————————————————— 50 ANNI DI VOGUE IN UN ARCHIVIO RIMINI 24 NOVEMBRE 2014 ore 11.00-13.00 Sede Universitaria Valgimigli via S. Chiara, 40 Aula 2 50 ANNI DI VOGUE ITALIA IN UN ARCHIVIO
Il 24 Novembre 2014 ZoneModa incontra Vogue Italia. Questa volta lo fa per celebrare il 50esimo anniversario della storica rivista e per scoprire insieme il nuovo progetto Vogue Archive 1964-2014, inaugurato appena lo scorso settembre. Ospite speciale del primo appuntamento ZoneModa + Vogue Talents Project sarà l'Experience Designer Pietro Turi, accompagnato da Elisa Pervinca Bellini e Federico Chiara, i quali ci racconteranno cosa significa trasformare 50 anni di storia del costume in un archivio digitale, ripercorrendo le tappe significative del magazine, tra fotografie, tendenze ed icone di moda.
50 YEARS OF VOGUE ITALIA IN A DIGITAL ARCHIVE
On November 24th 2014 ZoneModa will meet Vogue Italia. The meeting, this time, is to celebrate the 50th Anniversary of the historical fashion magazine and to discover together the new project "Vogue Archive 1964-2014" inaugurated last September.
Special guest of this first appointment – ZoneModa Vogue Talents Project – will be Peter Turi, Experience Designer, accompanied by Elisa Pervinca Bellini and Federico Chiara who will tell us what it means to transform 50 years of Costume & Fashion History into a digital archive.
They will be retracing the steps of the magazine, with photographs, trends and fashion icons.
VOGUE ARCHIVE – 50 anni di storia by Vogue Italia
Quando si archivia una storia, una storia durata 50 anni, non per forza significa che sia finita. Quella di Vogue Italia non è infatti stata archiviata per apporre un punto di fine, forse nemmeno d'arrivo – data la sua natura in divenire, come in continuo divenire è del resto la moda –, ma piuttosto per segnare un passaggio nodale, specchio del nostro tempo, in cui la digitalizzazione ottimizza il comune quotidiano fino al punto da diventare supporto indispensabile per la nostra memoria.
Nella terza puntata di Black Mirror stagione I, dietro l'orecchio di ogni uomo è inserita una piccola capsula che permette di registrare i propri ricordi, nonché di visualizzarli in ogni momento, nella propria mente come nel giga-plasma di una tv da milioni di pollici, magari durante una cena tra amici. Il riferimento al telefilm inglese è sorto spontaneo nel corso del primo appuntamento ZoneModa + Vogue Talents Projects, dedicato alla neonata iniziativa Vogue Archive: accompagnati da Elisa Pervinca Bellini, Federico Chiara e Pietro Turi, siamo infatti entrati nella memoria di Vogue Italia – testata evocatrice e provocatrice fin dal 1964 – per sfogliarne insieme i ricordi proiettati su maxischermo.
Il progetto dell'archivio virtuale è stato compiuto in soli tre mesi, affiancando al lavoro della macchina e della tecnologia – scansione del materiale, trasferimento in digitale, programmazione – il lavoro umano di riconoscimento ed analisi del contenuto, al fine di realizzare una corretta taggatura, impostare un ordine, facilitare i metodi di ricerca (questa può avvenire per tag, anno e tematica). Non solo: se da una parte l'archiviazione non è che una catalogazione ben strutturata, dall'atra la condivisione diffusa della stessa richiede una formula di presentazione capace di sedurre e affascinare l'utente. Vogue Archive è pertanto il risultato di una complessa operazione tecnica e al contempo culturale che permette di perdersi in un vasto e immaginifico universo visuale, pur riuscendo sempre a ritrovarsi e a muoversi al suo interno, grazie alle modalità interattive di un percorso-guida.
Anche i numeri – i 50 anni di Vogue Italia attualmente si traducono in oltre 200.000 pagine, 623 magazine e 2000 tag – rivelano l'indiscutibile quantità e preziosità del patrimonio, un autorevole e infinito bacino di ricerca per studenti, professionisti del settore, aziende e designer, nonché una ricchezza di informazioni e meta-informazioni in cui poter rintracciare i cambiamenti storici e salienti del Novecento. Lo si è capito nell'immediato mentre l'editor Federico Chiara apriva l'incontro con un breve excursus sulla vita della rivista: persino una singola cover diventa una chiave d'interpretazione e di comprensione dell'intorno, una finestra che invita a riflettere sul paesaggio sociale, di ieri e di oggi, oltre che sul più appariscente scenario estetico. Questo è possibile grazie all'inscindibile legame tra Vogue Italia e la fotografia di moda, legame supportato e rivoluzionato da Franca Sozzani a partire dal 1988, sperimentatrice di linguaggi innovativi e talent scout di celebri nomi tali Steven Meisel, Peter Lindbergh, Paolo Roversi, Bruce Weber.
La storia di Vogue Italia parla pertanto e soprattutto per immagini, archiviarla significa quindi scomporla in tutti i suoi elementi narrativi – volti, pose, icone, luci e colori, interni ed esterni, dettagli, materiali, top model ed attori – per poi ricomporli sotto un'inedita forma, non più inclusiva ma aperta alle persone e allo sharing. Registrandosi sul sito di Vogue Archive (archivio.vogue.it) ognuno potrà infatti costruire il proprio Portfolio di immagini, passando ad essere da lettore ad editor di uno special & personal issue. La consultazione non è totalmente gratuita, ma attivabile secondo tre differenti tipologie di abbonamenti (http://archivio.vogue.it/pricing/), mentre una sezione apposita è predisposta alla segnalazione degli errori da parte dei visitatori – «cultura di internet di base», sottolinea Pietro Turi, Experience Designer Condé Nast, il quale preannuncia una serie di prossime novità per l'archivio, migliorie che testimoniano la volontà di evolvere e di mettersi costantemente in gioco: una modalità di ricerca avanzata, l'introduzione di contenuti speciali e l'esperienza mobile, per portare 200.000 pagine dal maxischermo al più piccolo smartphone. Tutti pronti a sfogliare?
Cecilia Cestari
VOGUE ARCHIVE – 50 years of Vogue Italia history
When you archive a story, a story of 50 years, it doesn't necessarily mean it's finished. Indeed,  the Vogue Italia story was archived not to mark an ending point or a finish line – that would be impossible because the project is in progress as much as fashion – but rather to mark a nodal passage that is the mirror of our time, where the digitalization optimize the common daily life, even becoming indispensable support of our memory.
In the 3rd point of Black Mirror season I, back of the characters' ears, a little microchip allows them to record their memories, to display them in their mind or to reproduce them on the tv during a dinner with friends. The reference to the English television series was spontaneously born during the first appointment ZoneModa + Vogue Talents Project, dedicated to the new Vogue Archive. Thanks to Elisa Pervinca Bellini, Federico Chiara and Pietro Turi, the students went into the memory of Vogue Italia – evocative and provocative magazine since 1964 – to leaf through its memories on the maxi screen.
The virtual archive project has been realized in three months. In addition to the technologic work – scan of the material, digital transfer, programming – we found the human work of identification and analysis of content in order to achieve a correct tagging, to set an order and facilitate the research (you can research by tag, year and thematic). Not only: on one hand the archiving is a structured cataloguing, but on the other hand the possibility of common sharing needs a format of presentation able to seduce and fascinate the user. Therefore Vogue Archive is a result of a complex technical and also cultural operation that allows to lose yourself into an extended and dreaming visual universe, where moving is easy because easy are the modalities of navigation.
Even the numbers – currently the 50 years of Vogue Italia are translated in over 200.000 pages, 623 magazines and 2000 tags – reveal the indisputable quantity and preciosity of this heritage. Vogue Archive is an authoritative and unlimited research base for students, fashion expert, company and designers, it's a treasure of information and meta-information useful to trace the historical and most important changes of XX century. We immediately understood it while the editor Federico Chiara opened the lessons with a short excursus about the life of Vogue: even a single cover becomes an interpretation key of the society like a window that invite you to think about the social landscape of the past and the present, overtaking the striking aesthetical scenery. This is possible because there is a strong relation between Vogue Italia and fashion photography, relation supported and revolutionized by Franca Sozzani since 1988, known to be a experimenter of innovative languages and talent scout of famous names such as Steven Meisel, Peter Lindbergh, Paolo Roversi, Bruce Weber.
So if you want to archive the story of Vogue Italia, that is especially made by images, you have to break it in all its different narrative elements – faces, poses, icons, lights and colors, trends, details, materials, top models and actors – and recompose them in a new form, a form not exclusive, but public, open to people and to share. Indeed, when you register your account on Vogue Archive website (archivio.vogue.it), you can create your portfolio of images. In this way from a simple reader you become the editor of a special & personal issue. The consultation is not totally free, but there are three different types of subscription (archivio.vogue.it/pricing/), while a specific section allows the users to signal possible mistakes – «base culture of internet» – Pietro Turi affirmed. In conclusion the Experience Designer Condé Nast gave us a series of advance notices about the archive, improvements that testify the continuous will to develop: advance research, special contents and mobile experience, the aim is bringing the 200.000 pages from the maxi-screen to our smaller smartphone. Are you ready to click?