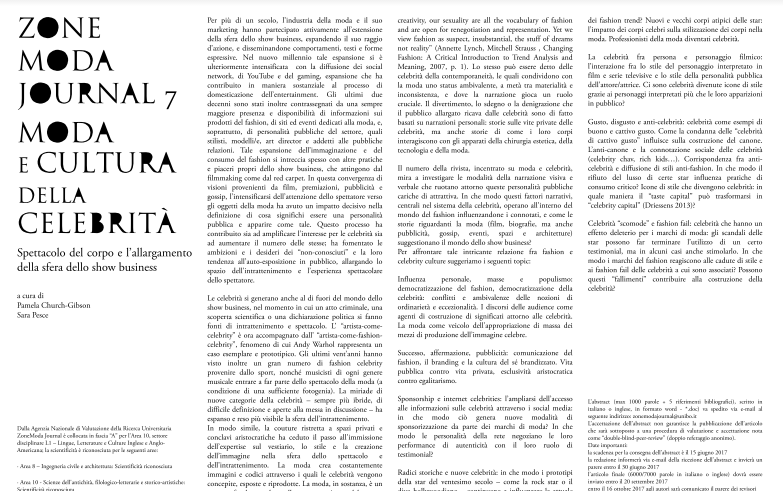 ZoneModa Journal 7: Moda e cultura della Celebrità/ Call for Paper
Spettacolo del Corpo e l'allargamento della sfera dello show business.
A cura di Pamela Church Gibson e Sara Pesce
La CALL FOR PAPER è scaricabile qui
L'abstract (compreso tra 2.000 e 2.500 caratteri spazi inclusi, scritto in italiano o inglese, in formato word – *.doc) va consegnato via e-mail all'indirizzo: zonemodajournal@unibo.it.
Gli articoli con un livello di inglese non ritenuto idoneo ai parametri scientifici internazionali non sarà tenuto in considerazione.
---
ENGLISH VERSION
The editorial staff is glad to announce the topic of the next ZoneModa Journal vol. 7
Fashion and celebrity culture.
Body spectacle and the enlarged sphere of show business.
To download the CALL FOR PAPER click here
The abstract (max 2500 types, in Italian or English, in Word format – *.doc) should be submitted to: zonemodajournal@unibo.it.