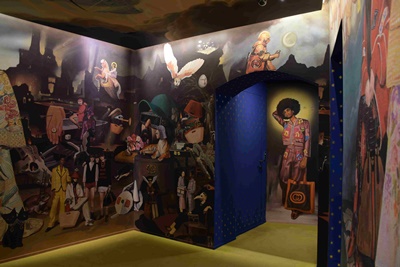 VIAGGIO DIDATTICO IN TOSCANA – EDUCATIONAL TRIP TO TUSCANY
Domenica 11 dicembre 2022 ore 15:00 Prato
1 – Visita guidata del museo del tessuto di Prato 
Via Puccetti 3, 59100 Prato (PO), +39 0574 611503, info@museodeltessuto.it
Il distretto industriale, per motivi storici e culturali,  caratterizza il sistema industriale italiano. Prato rappresenta un esempio di questo modo di produrre, tipico del made in Italy, nonché uno dei maggiori distretti tessili d'Europa. La visita al museo sarà utile per capire lo sviluppo dell'attività tessile e delle sue relazioni con l'industria della moda. Il museo offre una parte espositiva permanente e una parte dedicata a mostre esibizioni temporanee. Al momento sono visitabili le due seguenti mostre:
Mr & Mrs Clark. Ossie Clark and Celia Birtwell | Fashion and Prints 1965-7

.                                              La prima mostra finora mai realizzata in Italia è dedicata al designer di abiti Ossie Clark e alla sua compagna di vita e di atelier Celia Birtwell, due assoluti protagonisti della scena londinese e della cultura pop degli anni Sessanta e Settanta del Novecento;

Due Secoli di Textile e Fashion Design

                                                                                                        Le trasformazioni del design tessile e della moda avvenute dalla fine del Settecento fino alla metà del Novecento. Oltre 100 oggetti tra abiti, tessuti ed accessori che documentano le trasformazioni del settore tessile in un arco temporale di grandi cambiamenti, grazie soprattutto alla meccanizzazione dei processi produttivi.
Domenica 11 dicembre 2022 ore 18:00 Firenze
2 – Visita guidata del museo Salvatore Ferragamo
Palazzo Spini Feroni Piazza Santa Trinità 5/R, 50123 Firenze, +39 055 3562846 / +39 055 3562466, receptionmuseoferragamo@ferragamo.com
Il Museo Salvatore Ferragamo è un museo aziendale, dedicato alla storia dell'azienda Ferragamo, alla vita del suo fondatore e alle sue creazioni. Il brand Ferragamo ha contribuito alla storia della calzatura con la realizzazione di modelli iconici di fama internazionale. Inoltre il brand, appartenente al settore del lusso, ha in corso una strategia di rebranding delle collezioni, con un nuovo direttore creativo e CEO. In questo momento il museo propone la mostra "Donne in equilibrio. 1955-1965" ispirata alla figura di Wanda Miletti Ferragamo dal 1960 fino alla sua scomparsa, il 19 ottobre 2018, alla guida dell'azienda Ferragamo, cercando sempre un equilibrio tra la dimensione lavorativa e la famiglia. La mostra ha l'obiettivo di onorarne la memoria  tramite l'analisi della complessa realtà femminile in Italia tra gli anni Cinquanta e Sessanta, anni del "miracolo economico", contrassegnati da una profonda trasformazione del Paese, nel quale le donne si affacciano ai diversi settori della società, contribuendo alla costruzione dell'Italia repubblicana.  Il percorso espositivo, attraverso oggetti, abiti, opere d'arte, filmati, fotografie, intende così tratteggiare le attività e le scelte di donne di età diversa, anche in ambiti lavorativi fino ad allora riservati quasi esclusivamente agli uomini: donne delle professioni, dell'arte, della cultura, della politica e del lavoro che attraverso le loro esperienze personali illuminano la più lunga rivoluzione dell'età contemporanea, quella che ha segnato la fine della separazione dei ruoli sessuali. Sullo sfondo si delineano i molti interrogativi che la pandemia ha evidenziato suggerendo l'urgenza di una più attenta lettura delle relazioni di genere. A tale scopo la mostra a Palazzo Spini Feroni si completa con un altro progetto espositivo, solo digitale, realizzato in collaborazione con il corso Arts Curating di Istituto Marangoni Firenze nel quale sono state raccolte e commentate opere e testimonianze di undici artiste internazionali, in una riflessione corale sul tema delle identità, soggetto centrale della nostra condizione contemporanea.
Costo del biglietto euro 4 comprensivo della visita guidata; gli accompagnatori non pagano  
Lunedì12 dicembre 2022 ore 10:00 Firenze 
3 – Visita del museo Gucci Garden: 
 Piazza della Signoria, 10, 50122 Firenze, 055 75927010, guccigarden@gucci.com
Il museo racconta l'identità e l'immaginario del marchio Gucci, rinnovando in continuazione l'esposizione delle collezioni e lo storytelling del brand. Al momento il percorso, costituito da sei sale, si apre con Détournement, dominato da un murales realizzato dall'artista giapponese Yuko Higuchi che raffigura una creatura fantastica, una sorta di drago accompagnato da elementi floreali e dal marchio Gucci, dipinto in rosso tra le corna, per proseguire con Bagology, dedicata, come ricorda il nome, alle borse, analizzandone l'evoluzione dagli anni Cinquanta ai modelli contemporanei, e Cosmorama, incentrata sul tema del viaggio. Al secondo piano si trovano invece Ouroboros, che esplora alcuni aspetti del mondo naturale, Cosmic Colours, basata sui colori ricorrenti nelle collezioni Gucci, ed infine Jardin D'Hiver, in cui si insiste nuovamente sul tema della natura, centrale nell'organizzazione complessiva della struttura espositiva: le pareti dell'ultima sala, tappezzate con una carta da parati Gucci bianca in cui sono rappresentati rami, piante ed arbusti con foglie e fiori, sono state pensate proprio per trasmettere allo spettatore la sensazione di trovarsi in un giardino, in linea con la denominazione del complesso museale. Oltre alle sale permanenti, che costituiscono il fulcro dell'esposizione, è presente anche una period room che ospita la mostra Il Maschile – Androgynous Mind, Eclectic Body, che ripercorre come Gucci abbia interpretato e definito la moda maschile nel corso degli anni. Nel Gucci Garden lo spazio è interamente trasformato in arte, facendo immergere lo spettatore in una narrazione continua: i pianerottoli del primo e del secondo piano sono infatti decorati con murales realizzati da MP5, artista poliedrica che ha collaborato con Gucci nella campagna Chime for Change sull'uguaglianza di genere, mentre altri murales dipinti dall'illustratrice inglese Alex Merry impreziosiscono i vali scala dell'edificio raffigurando delle finestre ad arco che si aprono metaforicamente su una Piazza della Signoria reinventata dall'artista, simile in alcuni casi alle rappresentazioni oniriche della pittura surrealista.
4 – Visita dei seguenti negozi situati nel centro città:
Farmacia di Santa Maria Novella

(via della Scala 16) è ritenuta la farmacia storica più antica di tutta Europa essendo attiva senza soluzione di continuità da oltre 4 secoli, nonché uno degli esercizi commerciali più antichi in assoluto;

Ginori 1735 concept

store (n. 17/r di Via de' Rondinelli 17/r), la manifattura artistica della porcellana nata più di 270 anni fa e acquistata nel 2013 dal gruppo Kering al quale appartiene anche Gucci;

Luisaviaroma

(via Roma 19/21/r ) concept store multibrand che ha creato uno dei primi siti di vendita on-line con diffusione internazionale.
Lunedì12 dicembre 2022 ore 12:00 Firenze
Pranzo al Mercato Centrale (Piazza del Mercato Centrale, Via dell'Ariento, 50123) 
Lunedì12 dicembre 2022 ore 15:00 Scarperia e San Piero
5 – Visita dell'azienda Temera S.r.l.
Via di Pianvallico, 5, 50038 Scarperia e San Piero FI, 055 848425 
Temera – Soluzioni IoT per Fashion/Luxury & Retail
Temera rappresenta un centro di eccellenza nello sviluppo di soluzioni basate su applicazioni innovative delle tecnologie IoT (RFID UHF NFC BlockChain) a servizio del settore fashion e luxury. Si distingue per la specificità del proprio know how, acquisito in risposta ad una marcata esigenza di risolvere alcune problematiche legate alla semplificazione della logistica aziendale e dei processi produttivi, all' anticontraffazione e controllo di grey/parallel market, alle dinamiche retail sino all'esigenza di fornire esperienze sempre più pervasive e fidelizzanti all'acquirente.
Partecipazione da parte di CLAM e FAST
English version
EDUCATIONAL TRIP TO TUSCANY
January 15, 2023 Photography
Sunday 11 December 2022 at 15:00 Prato
1 – Guided tour of the Prato fabric museum
Via Puccetti 3, 59100 Prato (PO),
+39 0574 611503, info@museodeltessuto.it
The industrial district, for historical and cultural reasons, characterizes the Italian industrial system. Prato is an example of this way of producing, typical of made in Italy, as well as one of the largest textile districts in Europe. The visit to the museum will be useful to understand the development of the textile business and its relations with the fashion industry. The museum offers a permanent exhibition part and a part dedicated to temporary exhibitions. At the moment the following two exhibitions can be visited:
Mr & Mrs Clark. Ossie Clark and Celia Birtwell | Fashion and Prints 1965-7. The first exhibition ever made in Italy is dedicated to the dress designer Ossie Clark and her life partner and atelier Celia Birtwell, two absolute protagonists of the London scene and pop culture of the sixties and seventies of the twentieth centuries;
Two Centuries of Textile and Fashion Design. The transformations of textile design and fashion that took place from the end of the eighteenth century until the mid-twentieth century. Over 100 objects including clothes, fabrics and accessories that document the transformations of the textile sector in a period of great changes, thanks above all to the mechanization of production processes.
Sunday, December 11, 2022 at 6:00 pm Florence
2 – Guided tour of the Salvatore Ferragamo museum
Palazzo Spini Feroni Piazza Santa Trinità 5/R, 50123 Florence,
+39 055 3562846 /
+39 055 3562466, receptionmuseoferragamo@ferragamo.com
The Salvatore Ferragamo Museum is a corporate museum, dedicated to the history of the Ferragamo company, the life of its founder and its creations. The Ferragamo brand has contributed to the history of footwear with the creation of iconic models of international renown. In addition, the brand, belonging to the luxury sector, has a collection rebranding strategy in progress, with a new creative director and CEO. At this moment the museum offers the exhibition "Women in Balance. 1955-1965" inspired by the figure of Wanda Miletti Ferragamo from 1960 until her death, on October 19, 2018, at the head of the Ferragamo company, always looking for a balance between the working dimension and the family. The exhibition aims to honor its memory through the analysis of the complex female reality in Italy between the fifties and sixties, years of the "economic miracle", marked by a profound transformation of the country, in which women do so on the different sectors of society, contributing to the construction of republican Italy. The exhibition path, through objects, clothes, works of art, films, photographs, thus intends to outline the activities and choices of women of different ages, even in work areas until then reserved almost exclusively for men: women of the professions, art, culture, politics and work that through their personal experiences illuminate the longest revolution of contemporary age, the one that marked the end of the separation of sexual In the background are the many questions that the pandemic has highlighted, suggesting the urgency of a more careful reading of gender relations. For this purpose, the exhibition at Palazzo Spini Feroni is completed with another exhibition project, only digital, carried out in collaboration with the Arts Curating course of Istituto Marangoni Firenze in which works and testimonies of eleven international artists have been collected and commented on, in a choral reflection on the theme of identities, a central subject of our contemporary condition.
Cost of the ticket euro 4 including the guided tour; the accompanying persons do not pay
Monday12 December 2022 at 10:00 am Florence
3 – Visit of the Gucci Garden museum:
Piazza della Signoria, 10, 50122 Florence,
055 75927010, guccigarden@gucci.com
The museum tells the identity and imagination of the Gucci brand, constantly renewing the exhibition of the collections and the storytelling of the brand. At the moment the path, consisting of six rooms, opens with Détournement, dominated by a mural made by the Japanese artist Yuko Higuchi that depicts a fantastic creature, a sort of dragon accompanied by floral elements and the Gucci brand, painted in red between the horns, to continue with Bagology, dedicated, as the name recalls, to bags, analyzing their evolution from the Fifties to contemporary models, and Cosmorama, centered on the theme of travel. On the second floor there are instead Ouroboros, which explores some aspects of the natural world, Cosmic Colours, based on the recurring colors in the Gucci collections, and finally Jardin D'Hiver, in which we insist again on the theme of nature, central in the overall organization of the exhibition structure: the walls of the last room, upholstered with a white Gucci wallpaper in which branches In addition to the permanent rooms, which form the centerpiece of the exhibition, there is also a period room that hosts the exhibition Il Maschile – Androgynous Mind, Eclectic Body, which traces how Gucci has interpreted and defined men's fashion over the years. In the Gucci Garden the space is entirely transformed into art, immersing the viewer in a continuous narrative: the landings of the first and second floors are in fact decorated with murals made by MP5, a multifaceted artist who collaborated with Gucci in the Chime for Change campaign on gender equality, while other murals painted by the English illustrator Alex Merry embellish the stairways of the building by depicting arched windows that metaphorically open onto a Piazza della Signoria reinvented by the artist, similar in some cases to the dreamlike representations of Surrealist painting.
4 – Visit of the following shops located in the city center:
Farmacia di Santa Maria Novella (via della Scala 16) is considered the oldest historical pharmacy in all of Europe being active seamlessly for over 4 centuries, as well as one of the oldest commercial establishments ever;
Ginori 1735 concept store (n. 17/r of Via de' Rondinelli 17/r), the artistic manufacture of porcelain born more than 270 years ago and purchased in 2013 by the Kering group to which Gucci also belongs;
Luisaviaroma (via Roma 19/21/r) multi-brand concept store that has created one of the first on-line sales sites with international spread.
Monday12 December 2022 at 12:00 Florence
Lunch at the Central Market (Central Market Square, Via dell'Ariento, 50123)
Monday, December 12, 2022 at 15:00 Scarperia and San Piero
5 – Visit of the company Temera S.r.l.
Via di Pianvallico, 5, 50038 Scarperia and San Piero FI, 055 848425
Temera – IoT Solutions for Fashion/Luxury & Retail
Temera represents a center of excellence in the development of solutions based on innovative applications of IoT technologies (RFID UHF NFC BlockChain) to serve the fashion and luxury industry. It stands out for the specificity of its know-how, acquired in response to a marked need to solve some problems related to the simplification of company logistics and production processes, the anti-counterfeiting and control of grey / parallel market, to retail dynamics up to the need to provide increasingly pervasive and loyal experiences to the buyer.
Partecipation of CLAM and FAST
Photo by Mariella Lorusso
Foto di Mariella Lorusso
Fotografie di – Photo by Hanieh Atari