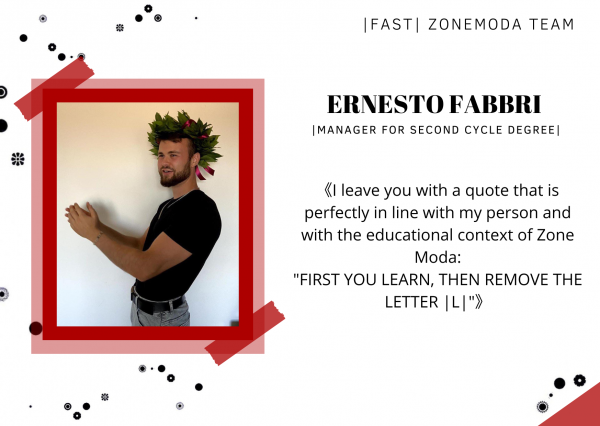 Ernesto Fabbri – FAST Zonemoda Team
To explain why I chose this course, I must first tell you my story…
I graduated in Finance and Marketing Administration (high school), during this period of study my passion for the world of marketing, communication and advertising was born.
During my high school studies I also happened to do a year of Graphic Advertising, during which I began to learn and love photography, cinema and digital graphic design.
In short, everything led me towards a career path centered on the advertising and analytical world.
So I chose to continue my career with a degree in Communication Sciences; integrating with exams in Marketing and Quantitative and Qualitative Analysis. During my studies I had the opportunity to complete my Bachelor's degree with a Double Degree between the University of Bologna in S.d.C. and the University of the Republic of San Marino in Digital Media Marketing.
If I wanted to, I could have continued studying Marketing, but it seemed too large as a sector. I therefore decided to combine my greatest passion, i.e. fashion, with the course of study that I felt was more mine, i.e. Marketing and Management. So I chose the Master's Degree in Fashion Studies with Curriculum: Strategy in Fashion Management.
Also because I've been buying and selling clothing and accessories since the age of 12/13; moreover, thanks to my career in the Communication / Marketing world, I had already had the opportunity to touch the functioning of the clothing sector firsthand.
I love the fashion sector because there's a big turnover but it's not just an end in itself, as all of this is integrated with the world of art and design.
My dream and my goal is to continue studying and improving myself in this field in order to one day be able to manage fashion companies.
Why did I choose to be part of the Zone Moda Team?
I had known Zone Moda for some time and I have always considered it an important and authoritative "rib" of the University of Bologna, specifically in the most interesting sector for me.
When the opportunity to be part of the team arose, I obviously jumped in.
Zone Moda is a fantastic reality and an excellent Networking; especially if you aim to work in this sector.
Why should you join ZM?
Helping in the management of Zone Moda is one of those situations defined Win-Win…
Because on the one hand you are contributing to an important project for the fashion community. And what's more, you will be amply rewarded with an experience that can prove to be very fruitful for various reasons:
– you will learn to collaborate and work in teams,
– you will live an experience that will prepare you for the world of work; directing you towards the fashion sector,
– in addition, being part of the team you will always be among the first to learn about the innovations of the sector and of the University.
My name is Ernesto Fabbri and within the Zone Moda Team I am responsible for the FAST Team (Master's Degree), I organize work and internal and external communications, I take care of the Social Medias and with my colleagues, the definition of the Strategic Publication Calendar.
I leave you with a quote that is perfectly in line with my person and with the educational context of Zone Moda:
FIRST YOU LEARN, THEN REMOVE THE LETTER "L".