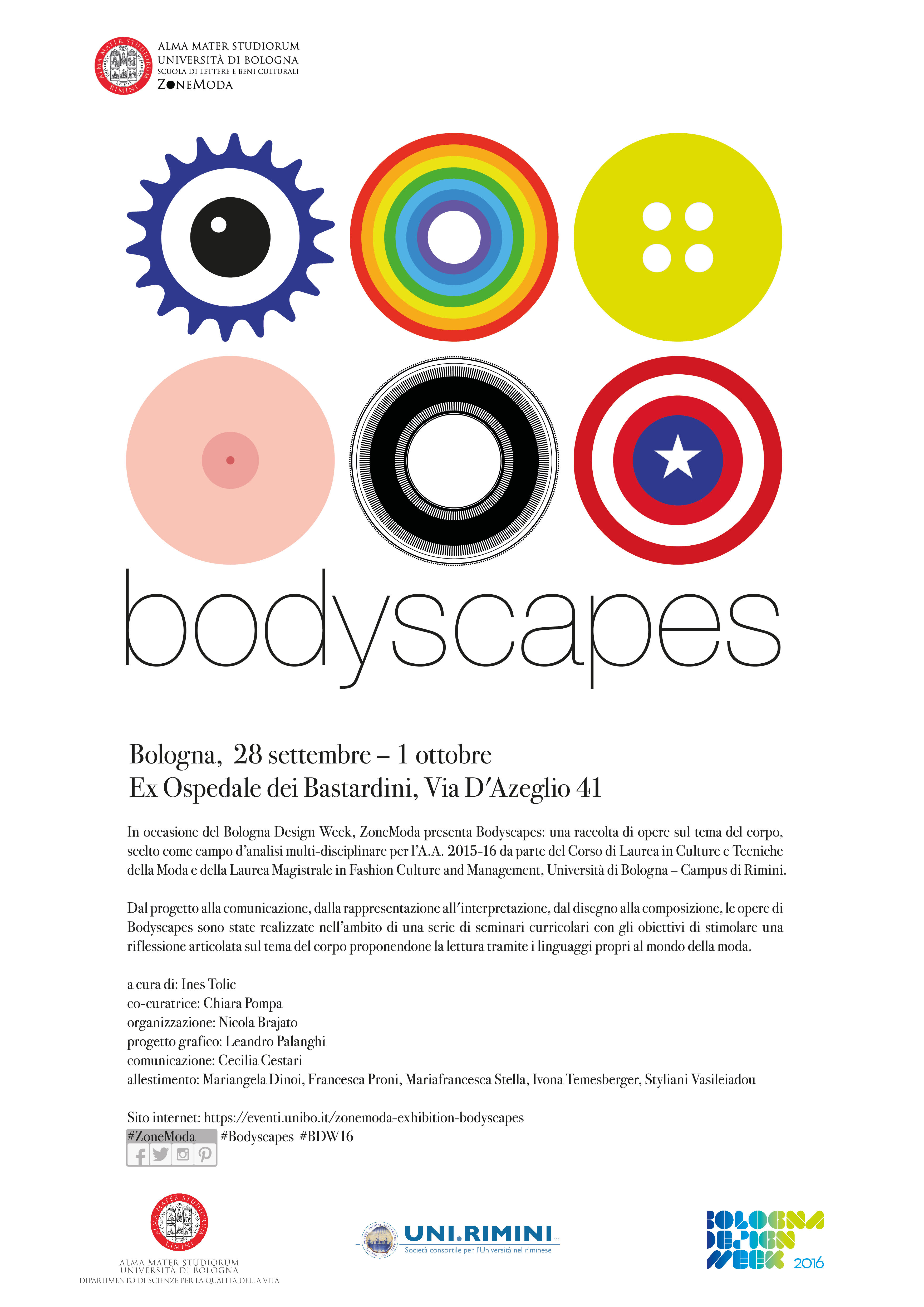 BODYSCAPES | ZoneModa Exhibition alla Bologna Design Week 2016

b  o  d  y  s  c  a  p  e  s
ZoneModa Exhibition
nell'ambito di Bologna Design Week 2016
Bologna, 28 settembre – 1 ottobre
Ex Ospedale dei Bastardini, Via D'Azeglio 41
Official opening: mercoledì 28 settembre, ore 20.00
In occasione della seconda edizione di Bologna Design Week, ZoneModa presenta Bodyscapes: una mostra che raccoglie opere sul tema del corpo, scelto come campo d'analisi multi-disciplinare per l'a.a. 2015-16 da parte del Corso di Laurea in Culture e Tecniche della Moda e della Laurea Magistrale in Fashion Culture and Management, Università di Bologna – Campus di Rimini.
Grafica, fotografia, storia, progettazione, comunicazione, curatela: le opere di Bodycapes realizzate dagli studenti nell'ambito dei seminari curricolari superano il mero legame funzionale e materiale tra corpo e abbigliamento, conducendo a una riflessione più estesa e ramificata che diviene specchio delle attività accademiche di ZoneModa, la quale sarà accompagnata dall'omonima pubblicazione edita per i tipi della Pearson-Bruno Mondadori Editore (2016).
#ZoneModa #Bodyscapes #BDW16
---
Credits
a cura di Ines Tolic
co-curatrice: Chiara Pompa
organizzazione: Nicola Brajato
progetto grafico: Leandro Palanghi
comunicazione: Cecilia Cestari
allestimento: Mariangela Dinoi, Francesca Proni, Mariafrancesca Stella, Ivona Temesberger, Styliani Vasileiadou
– I. Tolic, C. Pompa, M. Stella, Bodyscapes: the Body and Its Landscapes from the 19th to the 21st Century, Bruno Mondadori 2016.
– N. Brajato, Bodyscapes: corpi in mostra, in "ZoneModa Journal", 6, dicembre 2016, pp. 145-146.
– L. Palanghi, ZoneModa exhibition,  in "ZoneModa Journal", 6, dicembre 2016, pp. 119-126.
– Aa. Vv., Risvolti dell'abito – Trame del corpo, Maggioli, Bologna 2017.