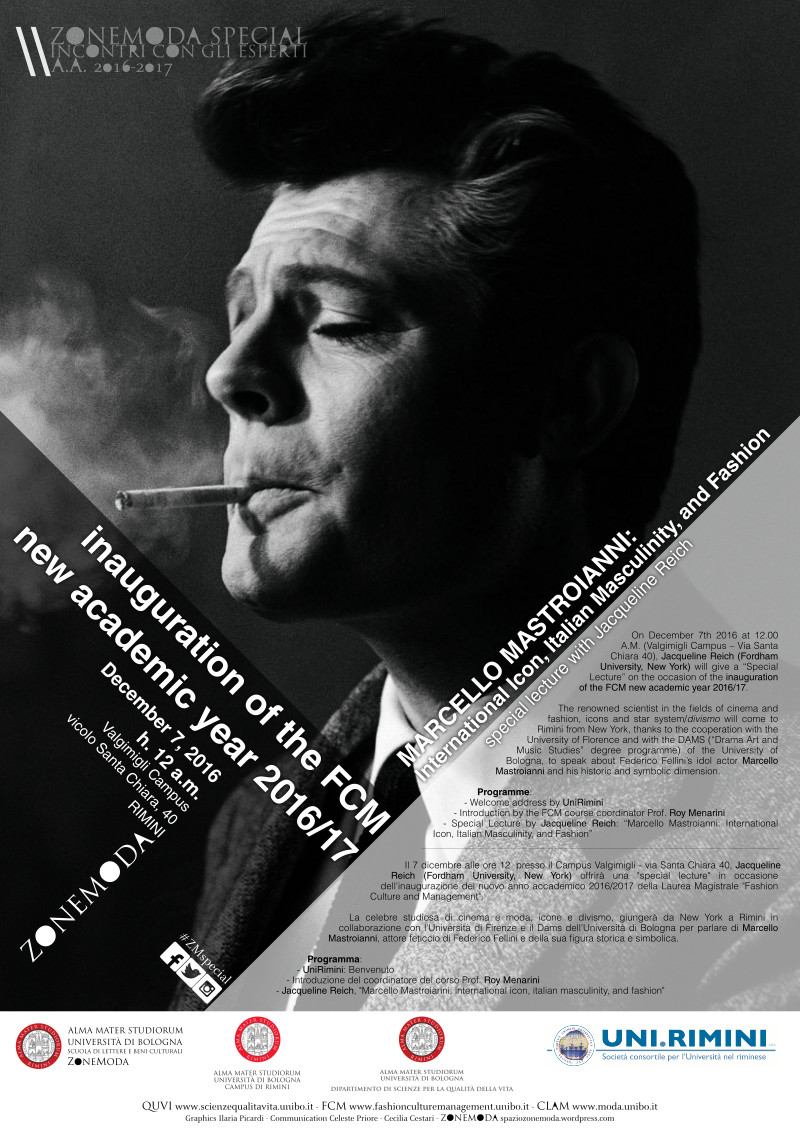 INAUGURATION OF THE FCM NEW ACADEMIC YEAR 2016/17 | Special lecture with Jacqueline Reich

INAUGURATION OF THE FCM NEW ACADEMIC YEAR 2016/17
special lecture with Jacqueline Reich
RIMINI
December 7, 2016 – h. 12 a.m.
Valgimigli Campus, vicolo Santa Chiara 40
#ZMspecial
Marcello Mastroianni: International Icon, Italian Masculinity, and Fashion
On December 7th 2016 at 12.00 A.M. (Valgimigli Campus – Via Santa Chiara 40), Jacqueline Reich (Fordham University, New York) will give a "Special Lecture" on the occasion of the inauguration of the FCM new academic year 2016/17.
The renowned scientist in the fields of cinema and fashion, icons and star system/divismo will come to Rimini from New York, thanks to the cooperation with the University of Florence and with the DAMS ("Drama Art and Music Studies" degree programme) of the University of Bologna, to speak about Federico Fellini's idol actor Marcello Mastroianni and his historic and symbolic dimension.
Programme:
– Welcome address by UniRimini
– Introduction by the FCM course coordinator Prof. Roy Menarini
– Special Lecture by Jacqueline Reich: "Marcello Mastroianni: International Icon, Italian Masculinity, and Fashion"
Il 7 dicembre alle ore 12, presso il Campus Valgimigli – via Santa Chiara 40, Jacqueline Reich (Fordham University, New York) offrirà una "special lecture" in occasione dell'inaugurazione del nuovo anno accademico 2016/2017 della Laurea Magistrale "Fashion Culture and Management".
La celebre studiosa di cinema e moda, icone e divismo, giungerà da New York a Rimini in collaborazione con l'Università di Firenze e il Dams dell'Università di Bologna per parlare di Marcello Mastroianni, attore feticcio di Federico Fellini e della sua figura storica e simbolica.
Programma:
– UniRimini: Benvenuto
– Introduzione del coordinatore del corso Prof. Roy Menarini
– Jacqueline Reich, "Marcello Mastroianni: international icon, italian masculinity, and fashion"