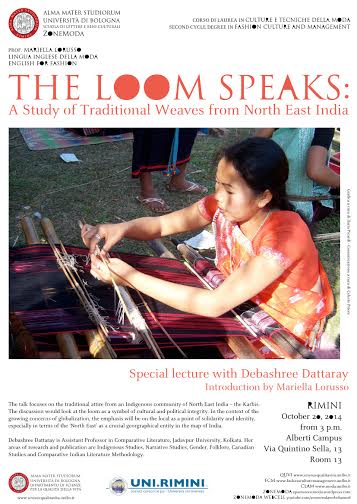 The Loom Speaks: A Study of Traditional Weaves from North East India
Università di Bologna / Campus di Rimini / Scuola di Lettere e Beni Culturali / Dipartimento di Scienze per la qualità della Vita / ZoneModa
CORSO DI LAUREA IN CULTURE E TECNICHE DELLA MODA
SECOND CYCLE DEGREE IN FASHION CULTURE AND MANAGEMENT
Prof. Mariella Lorusso
Lingua Inglese Della Moda
English For Fashion
RIMINI
October 20, 2014
from 3 p.m.
Alberti Campus
Via Quintino Sella, 13
Room 13
The Loom Speaks: A Study of Traditional Weaves from North East India
Special lecture with Debashree Dattaray
Introduction by Mariella Lorusso
The talk focuses on the traditional attire from an Indigenous community of North East India – the Karbis. The discussion would look at the loom as a symbol of cultural and political integrity. In the context of the growing concerns of globalization, the emphasis will be on the local as a point of solidarity and identity, especially in terms of the 'North East' as a crucial georgraphical entity in the map of India.
_____________________________________________________________________
Debashree Dattaray is Assistant Professor in Comparative Literature, Jadavpur University, Kolkata. Her areas of research and publication are Indigenous Studies, Narrative Studies, Gender, Folklore, Canadian Studies and Comparative Indian Literature Methodology.