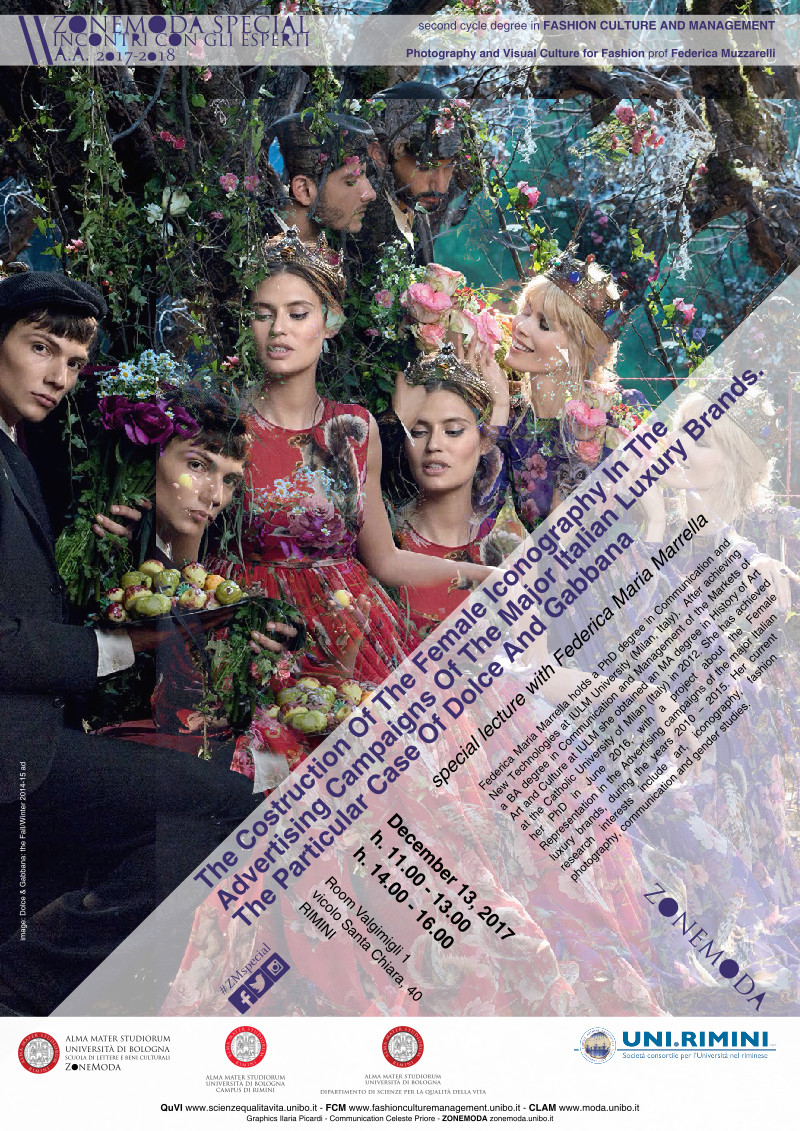 THE COSTRUCTION OF THE ADVERTISING CAMPAIGNS OF DOLCE AND GABBANA
Università di Bologna / Campus di Rimini / Scuola di Lettere e Beni Culturali / Dipartimento di Scienze per la qualità della Vita / ZoneModa
second cycle degree in FASHION CULTURE AND MANAGEMENT
Photography and Visual Culture for Fashion prof Federica Muzzarelli
THE COSTRUCTION OF THE FEMALE ICONOGRAPHY IN THE ADVERTISING CAMPAIGNS OF THE MAJOR ITALIAN LUXURY BRANDS.
THE PARTICULAR CASE OF DOLCE AND GABBANA
special lecture with FEDERICA MARIA MARRELLA
December 13, 2017
h. 11.00 – 13.00
h. 14.00 – 16.00
Room Valgimigli 1
vicolo Santa Chiara, 40
RIMINI
ABSTRACT
In the history of fashion photography, the images of women have constantly been anchored to a limited number of archetypes. These archetypes include those of the androgynous woman, of the exotic woman and of the diva woman (Muzzarelli, 2013). Although they can be traced back to ancient myths and observed throughout the centuries these archetypes acquired distinctive and new iconographic shapes in the late nineteenth and early twentieth century (Nochlin, 1999). As a result, in fashion photography advertising campaigns we can find a lot of different "Fashion Bodies". (Grandi, in Abruzzese, Barile, 2001).
As Aby Warburg's analyses have shown (Gombrich, 1970), in order to be aware of the role played by a specific iconographic custom in contemporary society, it is important to trace back its tradition. The iconographic method can certainly also be applied to the image of the woman in contemporary society. Does the medium used, the fashion photography, affect the social significance of images? Has the so-called lo-fi, digital media and the subsequent "Democratization of Fashion" (Barile, 2011), changed women's iconography and experimented new styles?
Lipovetsky (2007) argues that fashion luxury is "feminized": can we find new female representations in the contemporary Italian luxury fashion advertisements? What can we discover looking at the Fashion Brand Advertisements, starting from the Goffman's essay Gender Advertisements (Goffman, 1979) and from the artistic iconographic method (Gombrich, 1970)?
My research analyzes the different female's representations and "Fashion Bodies" in the Italian Luxury prêt-à-porter Fashion-Wear Advertisement Campaigns during the years 2010-2015. I have concentrated on the richer Italian Luxury Brands and on the particular case of Dolce and Gabbana campaigns.
About the Author
Federica Maria Marrella holds a PhD degree in Communication and New Technologies at IULM University (Milan, Italy). After achieving a BA degree in Communication and Management of the Markets of Art and Culture at IULM she obtained an MA degree in History of Art at the Catholic University of Milan (Italy) in 2012. She has achieved her PhD in June 2016, with a project about the Female Representation in the Advertising campaigns of the major Italian luxury brands, during the years 2010 – 2015. Her current research interests include art, iconography, fashion photography, communication and gender studies.
#ZMspecial