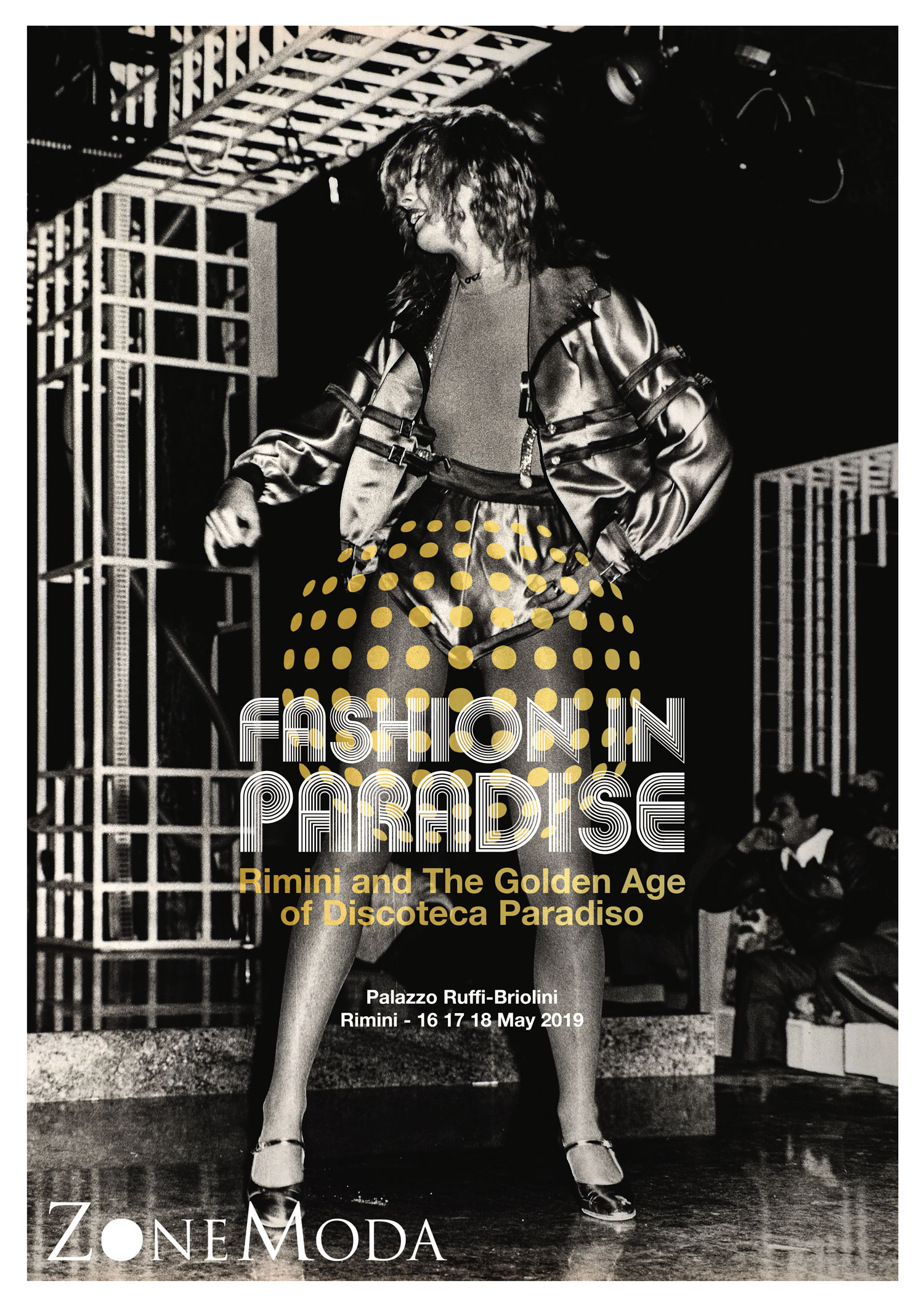 FASHION IN PARADISE. Rimini and the Golden Age of Discoteca Paradiso
University of bologna Rimini Campus
Palazzo Ruffi Briolini
Rimini, 16-18 maggio 2019
A SITE SPECIFIC INSTALLATION
Immaginate di danzare al ritmo de La Vie en Rose di Grace Jones, mentre bevete il vostro cocktail seduti accanto a Gianni Versace o al filosofo Umberto Eco. O magari di trovarvi in una selvaggia festa in costume tribale, o in prima fila a una sfilata di Jean-Paul Gaultier. Questa non è un'immagine postmoderna del nightclub newyorkese Studio 54, questa è la discoteca Paradiso di Rimini.
Fondato nel 1957, il Paradiso ha fatto la storia della vita notturna italiana e internazionale degli ultimi decenni del Novecento grazie a Gianni Fabbri e al suo approccio all'avanguardia. Fashion in Paradise presenta per la prima volta l'inedito archivio privato di Fabbri, mettendo in scena un'installazione che ripercorre un'epoca riassunta in poche parole dallo scrittore Pier Vittorio Tondelli: "Rimini come Hollywood".
L'idea di essere cool è una parte fondamentale del subcultural capital appartenente al clubbing. E dunque quale occasione migliore del convegno "Be Cool" per raccontare l'affascinante storia della discoteca Paradiso. In linea con il tema di quest'anno, vogliamo raccontare con immagini suggestive come il club di Gianni Fabbri, e la discoteca in generale, possano essere visti come una dimensione di sperimentazione di nuovi trend e di diverse espressioni estetiche.
Attraverso una narrazione sciolta da rigide cadenze temporali, l'installazione riporta alla luce lo splendore di un'epoca in cui moda, discoteca e intrattenimento si mescolavano in performance uniche e indimenticabili. Un'attenta selezione del materiale dell'archivio Fabbri racconta la storia del Paradiso seguendo alcuni degli elementi chiave che hanno reso unico questo luogo: moda, celebrità ed eventi.
L'industria creativa e culturale insita nella discoteca Paradiso è riuscita a elevare Rimini a capitale dell'intrattenimento, come afferma l'antropologo Ted Polhemus nel suo libro "Style Surfing", includendo la città nel regno di Clubland insieme a New York, Londra e Los Angeles. Inoltre, Fashion in Paradise, oltre a dare prestigio a materiale inedito, ha l'obiettivo di recuperare e valorizzare un'eredità che col tempo sta scomparendo per mancanza di interventi ufficiali.  
Siete pronti a saltare sulla pista da ballo?
—————–
Imagine dancing to the rhythm of Grace Jones' La Vie en Rose, while drinking your cocktail seated next to Gianni Versace or philosopher Umberto Eco. Or maybe finding yourself in a savage tribal costume party, or in the first row of a Jean-Paul Gaultier's show. This is not a postmodern picture of New York nightclub Studio 54, this is Rimini Discoteca Paradiso.
Founded in 1957, this discotheque made the history of the Italian and international nightlife over the last decades of the 20th century thanks to Gianni Fabbri and his avant-garde approach to clubbing. Fashion in Paradise is the first site specific artwork which aims to present Fabbri's unpublished private archive, staging an installation that retraces an era excitedly summed up in a few words by writer Pier Vittorio Tondelli: "Rimini as Hollywood".
The idea of coolness is a fundamental part of clubbing subcultural capital, says sociologist Sarah Thornton. So what better occasion than "Be Cool!" conference to tell the fascinating story behind Discoteca Paradiso. In line with this year topic, we want to narrate using charming images how Gianni Fabbri's club, and discotheque in general, can be seen as a dimension for experimental appearances and the expression of taste preferences, becoming primary sources for new trends and fashions.
Through a narrative loosened from rigid temporal cadences, the installation brings to light the splendor of an era in which fashion, disco and entertainment mixed together in unique and unforgettable performances. A careful selection of the material from the Fabbri archive tells the story of Paradiso following some of the elements that have made this place unique: fashion, celebrities and events.
The creative and cultural industry inherent in Discoteca Paradiso has managed to elevate Rimini to capital of entertainment, as claimed by anthropologist Ted Polhemus in his book Style Surfing, including the city into the kingdom of "Clubland" together with New York, London and Los Angeles. Furthermore, Fashion in Paradise in addition to giving prestige to new material, has the ambition to recover and enhance a legacy that over time is disappearing due to the lack of official interventions.  
Are you ready to jump on the dance floor?
Credits
Curated by Nicola Brajato
Staging and graphic project: Leandro Palanghi
With the support of Flavia Piancazzo and Yingntao Zhong
Scientific direction: Simona Segre Reinach
A special thanks to Paolo Fabbri and Simonetta Franci
New Books:

EXHIBIT! La moda esposta. Lo spazio della mostra e lo spazio della marca (Mondadori Pearson with L. Marchetti)

FASHION IN MULTIPLE CHINAS. Chinese Styles in the Transglobal Landscape (I.B. Tauris/Bloomsbury with W. Ling)